School of Construction Management and Engineering builds good prospects for women
Release Date 09 July 2013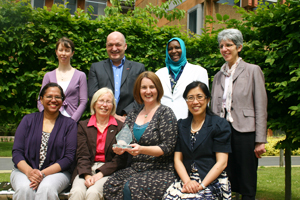 The University of Reading's School of Construction Management and Engineering has been recognised once again for supporting and advancing the careers of women, winning an Athena SWAN Silver award.
The Athena SWAN charter is aimed at advancing the careers of women in science, technology, engineering, maths and medicine (STEMM) employment in higher education. This year there were nearly one hundred applications from universities across the UK, which is the highest number to date.
In 2009, the School was the first construction management academic institution to be awarded a Silver award by Athena SWAN.
Head of School Professor Stuart Green said: "Female students can be put off by the traditional male-dominated image of the construction sector. There is undoubtedly still much scope for improvement, but this should not distract from the rich variety of career paths in design and professional services which are far removed from the tired old stereotypes of the past.
"For our part, we are delighted that the School's work in ensuring equal opportunities practices and procedures for women has been recognised by these national awards once again."
The University of Reading's School of Construction Management is internationally recognised as a centre of excellence for teaching and research in the built environment.
Professor Dr Runming Yao is the Course Director of the University's Design and Management of Sustainable Built Environments, and also sits on the Chartered Institution of Building Services Engineers (CIBSE) diversity panel which recently launched its campaign promoting women in building services.
"There has been a rise in confidence resulting from the positive support our female students have received from us, which in turn has been acknowledged by the Athena SWAN charter. In an ever challenging industry, our school aims to provide the construction sector with the best available talent, irrespective of gender, but it recognises that male and female students often have different needs when accessing the industry."
Dr Sunila Lobo, a Research Fellow within the School, added: "Having worked at Reading after completing my PhD at Warwick, I then moved to Saudi Arabia for about two years. I returned to Reading because of the exciting opportunities and flexibility afforded me here.
"Academically, I have been given the latitude and support to develop my own trajectory of research, which has been incredibly encouraging. Personally, the School has supported me in my caring responsibilities, enabling me to meet these responsibilities whilst still continuing with my career. I have never felt disadvantaged by my gender - it is a non-issue in this School."
ENDS