University launches first cadets into space industry
Release Date 16 July 2013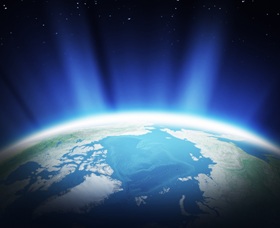 The University of Reading has launched an innovative internship programme this month giving students a unique insight into the space industry.
The University's Space@Reading unit is running the scheme on behalf of the space industry and has placed undergraduates from 22 universities into 14 space organisations in the UK, to carry out projects over the summer. A total of 48 successful candidates have been selected from 240 applications, each receiving a prestigious eight-week paid position within leading and emerging companies in the UK space industry. During the duration of the placement they will also receive one-to-one career coaching from the University's triple accredited Henley Business School.
Professor Robert Gurney, Director of Space and Earth Observation at the University of Reading, speaking on the space sector's skills requirements at the UK Space Conference 2013 in Glasgow today, said:
"We underestimated the response we would get regarding the scheme from both industry and students. We are delighted by the response which is designed to address the high-tech skills shortage within the UK Space industry.
"Space-derived data and services have already revolutionised capabilities in areas such as navigation and broadcasting and technology is now being developed that will play a vital role in the management of issues as wide ranging as natural resources, food security and healthcare. This programme offers a fantastic opportunity for students with an interest in space to pursue a career in a rapidly growing and dynamic industry."
Helen Roberts, Senior Policy Advisor from the UK Space Agency said:
"We are delighted that the University of Reading has worked with us to develop the first UK wide internship programme supporting the Space industry. Initially we had been encouraged by the Space Leadership Council to provide 20 interns, funded by the International Space Innovation Centre, having identified there were skills gaps in the space sector. This was not just in the traditionally understood areas of mathematics and physics, but also in management and science.
"We recognised we needed a work experience programme that was more intuitively sustainable than existing internships. Our aim for students is to increase their employability prospects and confirm their enthusiasm for their subject without having to make a financial sacrifice. Companies in turn want a meaningful asset to their team."
Companies participating in the scheme are supportive of the new UK-wide scheme. One intern supervisor, Steve Lee, Managing Director of Stevenson Astrosat in Glasgow, which has taken on three interns over the summer, commented on the benefits of the scheme to his company:
"Astrosat recruits fresh minds constantly, our innovative edge is enhanced by the hunger of new graduates (from honours to Phd), so I was open to the value of undergrads on internship.
"Initially, I expected only one to work on basic parts of our day to day business. I underestimated the quality I received from what grew to three interns, who have been working on relatively high level projects directly with my Chief Engineering team.
"We have formed relationships that we fully intend to continue to foster beyond the scheme and I have to congratulate everyone involved for running and developing a scheme that has helped my SME in a very positive way."
The scheme is one of many run by the University of Reading for its own students as part of a drive to develop new and existing skills and ultimately give graduates the edge in the employment market.
This year's interns attended an Induction to the Space Sector hosted by the Satellite Applications Catapult on 1 July, and will showcase their projects as a result of their placements in November at an event hosted by Inmarsat.
ENDS
Media enquires to the press office on +44 (0) 118 378 7391 or p.castle@reading.ac.uk.
Notes to editors:
The University of Reading provides the largest research capability in weather and climate science and earth observation of any university in Europe. It is internationally renowned for its research and training in weather, climate, physical oceanography and solar-terrestrial physics, and its work plays a vital role in the improvement of weather forecasting, climate modelling and related areas. It hosts two centres on behalf of the Natural Environment Research Council (NERC), the National Centre for Earth Observation and the National Centre for Atmospheric Science (NCAS) Climate in addition to members of the Met Office Hadley Centre.
The Department of Meteorology was awarded the Queen's Anniversary Prize for Higher and Further Education for 'Weather and Climate Science' in 2005. More recently it was one of only twelve university departments to be awarded a prestigious Regius Professorship by HM the Queen, recognising its global leadership and expertise in meteorology, earth observation and climate sciences.