Reading makes victorious start to BBC's 'University Challenge'
Release Date 23 July 2013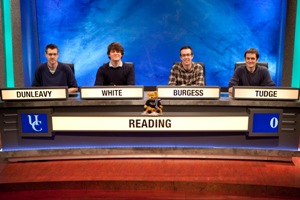 Here's a starter for 10...
A team of four students from the University of Reading made a triumphant start to the new series of University Challenge last night, beating St John's College, Cambridge in their first round match.
The team, including a mixture of undergraduate and postgraduate students from Reading, beat the renowned Cambridge college by 180 points to 120 in a match in which the Reading team led from the beginning and held onto their advantage until the famous final gong.
Team captain was engineering doctorate student Peter Burgess, who is studying for an EngD in solar power monitoring at the Reading research centre Technologies for Sustainable Built Environments, who described the 'surreal' experience.
"It was a bit like being transported into your television," Peter said.
"Filming the show feels exactly like watching it at home, answering questions as you go - only Jeremy Paxman is about ten feet away, and when you know the answer you have a buzzer and the magnificent Roger Tilling calls your name."
Peter's fellow team members were Michael Dunleavy, an undergraduate studying Biomedical Sciences, Christopher White, a History undergraduate, and Luke Tudge, studying for an MSc in Psychology.
The group's reserve was Helen Johnson, studying for an MA in Applied Linguistics.
The team correctly answered questions on Karl Marx, the Queen's 'annus horribilis', asthma, clerics in literature, and - easiest of all - bicycle brakes.
"As observed by many of my friends who were watching the programme, asking me questions about bike brakes is a total gift. I live and breathe sustainability," said Peter, who as well as researching renewable energy technology is a keen cyclist.
As the match was only the second episode in the new series, viewers of the long-running quiz show now have a lengthy wait until Reading's second round match, the dates for which have not yet been announced.
So - as Mr Paxman would say - for now, it's goodbye to the team from the University of Reading: (Team: "Goodbye.") ...and it's goodbye from me. Goodbye.
ENDS
For more information or to organise interviews contact Pete Castle at the University of Reading press office on 0118 378 7391 or p.castle@reading.ac.uk.
Watch episode on BBC iPlayer (available until 3 August 2013) >>>