How can mental health research help patients and reduce NHS costs?
Release Date 24 July 2013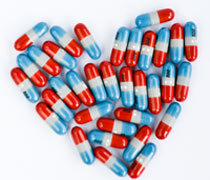 Leading academics and clinicians met at the University of Reading yesterday (Tuesday 23 July) to discuss the links between physical and mental health and how the latest mental health research could help patients in all parts of the NHS.
Physical illness is frequently complicated by poor mental health. For example, patients with diabetes, heart disease, stroke and cancer may also be depressed. Untreated this co-occurrence of conditions can affect quality of life, result in poorer medical outcomes, and increase medical costs.
Doctors and mental health experts from across the Thames Valley, Chilterns, and South Midlands came together at the University of Reading to discuss how research could provide some answers.
The Mental and Physical Health Interface event was organised by the Berkshire Healthcare NHS Foundation Trust and sponsored by the Oxford Academic Health Science Network (AHSN), of which the University of Reading is a founding member.
This showcase event was the first of its kind since the Oxford AHSN was designated. It was designed to kick-start future collaboration and highlight innovative clinical and research projects across the region. Speakers included the new National Clinical Director for Mental Health, Dr Geraldine Strathdee, and Professor of Psychological Medicine at Oxford, Professor Michael Sharpe.
Dr Laurie Butler, head of the University of Reading's School of Psychology and Clinical Language Sciences, said university-based research could help to make a huge difference to patients within the NHS.
"Very often the NHS is excellent at treating physical conditions, but can sometimes struggle to link patients up with mental health support if they develop related mental health problems," he said.
"For example, patients with long-running or serious illnesses, such as type 2 diabetes, are twice as likely to experience depression as the general population. Similarly, up to half of cancer patients suffer from a mental illness such as depression or anxiety. Depression is also frequently experienced by patients with dementia and their carers.
"Through our existing partnerships with the NHS, and with expertise in research and training in the area of mental health, the University of Reading is well-placed to try and help tackle this problem. Finding solutions will not be easy, but the prize is worth it - saving millions of pounds in wasted resources and helping patients get the health services they really need."
ENDS
For more information, or to organise interviews, please contact Pete Castle at the University of Reading press office on 0118 378 7391 or p.castle@reading.ac.uk.
Notes to editors:
The Oxford Academic Health Science Network is composed of health and social care providers, NHS commissioners, universities, life sciences businesses, and patients within Berkshire, Buckinghamshire, Milton Keynes, Oxfordshire and Bedfordshire, with NHS affiliate links into Gloucestershire, South Warwickshire, Northamptonshire and Wiltshire, in all covering an area with a population of 3.3million people.
The University of Reading is a constituent member of the network. The University is a top 1% global university (THE World University Rankings 2012) with an international reputation for the quality of its research, with health research being a particularly strong area.
Centres of health research include: