University celebrates music legend Geoff Goddard
Release Date 04 June 2013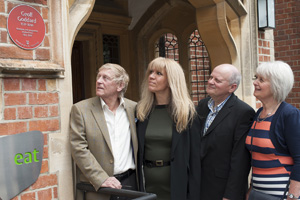 Last Friday the University of Reading was delighted to celebrate Reading-born music legend Geoff Goddard.
Following his successful music career Geoff, who wrote hits including 'Johnny Remember Me' and 'A tribute to Buddy Holly', worked in the University's catering department for over 20 years, before his untimely death in 2000.
During the afternoon 60s music icon and movie star John Leyton who sung 'Johnny Remember Me' unveiled a special plaque on the wall of Park House, the building where he worked, to celebrate Geoff's musical achievements and his service to Reading.
In the evening the University hosted a special concert in further tribute to Geoff. Celebrating the sounds of the 60s - A tribute to Geoff Goddard, was compered by former Radio 1 DJ Mike Read and included a live performance from John Leyton.
John, who starred in the film The Great Escape, said: "Geoff Goddard was a hugely talented songwriter. His unusual lyrics, a galloping rhythm and tempo, combined with the sound record producer Joe Meek created from his 1st floor flat studio, meant Geoff's songs were immensely likeable and popular. He was also a wonderful musician, and played classical and pop music brilliantly, effortlessly switching between the two which is a rare gift.
"It's wonderful that the University has honoured Geoff and I was delighted to be asked to unveil the plaque. I owe an enormous amount to Geoff. He was a lovely man and I have very fond memories of our time together. He wrote all my hits and was a massive influence on my music career."
The University was honoured to welcome members of Geoff's family for lunch and the unveiling ceremony, including his niece Lorraine Walsh.
Lorraine said: "I think it's wonderful he's been honoured by the University and I'm sure Geoff would have been delighted. He loved working here and felt it was more like being amongst family rather than a job."
The unveiling of the plaque dedicated to Geoff marks the start of the University's commemorative plaque scheme.
Sir David Bell, University of Reading Vice-Chancellor, said: "Over the coming years we aim to celebrate the achievements of noteworthy individuals and their contribution to the University by placing a plaque at a location of significance to them on one of the University campuses. It is a real pleasure to me and the University that our first was in celebration of a true unsung hero. We were delighted to welcome members of Geoff's family in our celebration of Geoff's contribution to music, and indeed his considerable service to the University."
ENDS