i-Museum goes live at University of Reading
Release Date 05 June 2013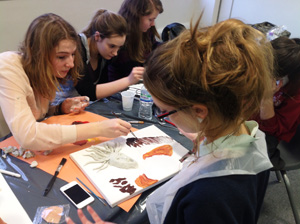 Ancient Greek artefacts will be on show at the University of Reading's Library from the 17th June, in a unique partnership with secondary school pupils in Reading.

Pupils from Addington School, Kendrick School and Maiden Erlegh School have been working with undergraduate students from the University of Reading to create an innovative, interactive exhibition and history trail.

The pieces on show are original pots and inspirations from the collection at the University's Ure Museum, based on the Whiteknights campus, which houses one of the largest collections of Greek ceramics in Britain. Students and pupils aged between 14 and 25 have been working together over seven months to conceive, plan and carefully organise the project with the support of the Arts Council.

Both artworks and original pots will be on display in the University's library, where visitors will also have the chance to use an iPad to take a virtual tour and digitally interact with the collection.
Guja Bandini, Project Leader and Education Officer, said: "Many of the young people had never been in a museum before and they became really inspired to research ancient Greek myths and history. They worked outside the workshops to expand their knowledge and shared their findings with the others during our meetings.
"Thanks to our collaboration with local charity iMuse, Ure Discovery was able to use portable technology to improve accessibility to the Museum for special needs children and adults.
"Under the supervision of the student panel, the team of school pupils used digital images and sounds to bring ancient art to life. The use of iPads will allow a much more flexible, accessible and personalised approach to the final result for all visitors to the Ure Museum."

The exhibition will run from Monday 17th June to end of August 2013 Floor Lobby, Main Library, University of Reading, Whiteknights, Reading, during normal library opening times