Selfless students recognised for community work
Release Date 06 June 2013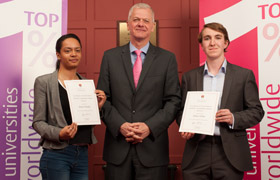 University of Reading students have been recognised for their sterling volunteer work in the local community with two individuals winning a Student Community Award (SCA).
The SCA scheme highlights the efforts of the many University of Reading students who help others using their own initiative, perhaps by providing support to others, making a contribution to the local community or showing acts of kindness or good neighbourliness. This year 16 students were nominated by members of the local community.
SCA winner Adam White, a third year history student, has been volunteering with the Boys' Brigade for three years, helping at weekly meetings and activities for 6-18 year olds.
Jeff Lewis, Warrant Officer for 2nd Reading Boys' Brigade who nominated Adam, said: "Adam is an excellent role model for the boys and always has time to talk to and help them, displaying great patience and care. Adam has built up a rapport with Ben who is severely autistic and receives a dedicated assistant at school. As a result, he accompanied Ben on a recent summer camp and rarely left his side which really helped Ben enjoy a fantastic weekend. Ben's parents were delighted about the positive impact which the weekend had on Ben."
Adam, who is originally from Somerset, said: "I'm very passionate about the Boys' Brigade and am very proud of the fact that I have had a positive influence on the boys' lives in the three years I've been volunteering with the group. Winning an unexpected award for doing something I love is the perfect end to my time at the University."
Second year speech and language therapy student Elicia Westley, also won an Award. Elicia volunteered at local charity Me2 Club based in Woodley which helps children and young people with additional needs to lead as normal life as possible.
Volunteer Co-ordinator of the Me2 charity Joanne Scott said: "Elicia trained with us in 2011 and has since been paired with Tom, a 12 year old boy who has autism. She met Tom for the first time at his home and immediately made a great impression - Tom demanded Elicia dance to the Doctor Who theme tune with him in front of his family, and she enthusiastically obliged, so it was clear the pair were set to make a brilliant match!
"Tom's autism means he struggles with communication and understanding social situations, but with Elicia's support he has grown in confidence and independence. She accompanies him at drama sessions every Saturday and has taken to the stage alongside Tom on several occasions, most recently at the Royal Albert Hall. In the words of Tom's mum 'Elicia really does perform above and beyond the call of duty'."
Upon receiving her award Elicia, from East London, said: "I was very shocked to be nominated for and then to win the award! I love the time I spend with Tom and despite not being into drama before I really enjoy performing now. I'm studying speech and language therapy so I think my experience will definitely help me in future when I'm looking to work in that field."
The winners were presented with certificates and cheques for £80 by Sir David Bell, Vice-Chancellor of the University of Reading, at a ceremony on Wednesday 29 May 2013 at Foxhill House on the University's Whiteknights campus.
Three second year students from the University's Baking Society, Hayley Cooper, Hannah Robinson and Katie Brown, received the runners up prize of £30 each for their partnership with Lakeside Care Home for elderly people with dementia. The Society has been running regular baking sessions with the residents as part of the Home's range of activities.
The University's Vice-Chancellor Sir David Bell said: "I'm struck not only by the variety of volunteering and charitable work our students are involved in, but by the amount of spare time they devote to these activities. It is worth noting that the awards were not the students' prime motivation for getting involved but it is very important to recognise their hard work. I'm very impressed by their selfless dedication and commitment, and the impact these students have had on the local community."
ENDS
Notes for editors:
The prize money for the Student Community Awards came from the generosity of University of Reading alumni, whose donations, made through the Annual Fund, support the project. The Fund aims to enhance the student experience through innovative teaching and learning, extra-curricular activities and financial support.
The Student Community Awards Committee is made up of University staff and representatives from the students' union and local community.