University showcases the next generation of artistic talent
Release Date 11 June 2013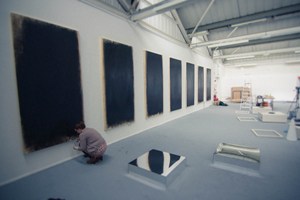 Thought-provoking and innovative paintings, sculptures, installations, performances and films will vie for attention at the University of Reading's Fine Art Degree Show this month.
The show, which is free and open to the public, is part of the University's month-long Celebration of Arts & Culture, and features work by 34 students, who are all graduating from Reading's world-renowned Department of Art.
Members of the public can visit the exhibition between 10am and 4pm every weekday from 10 to 21 June.
Professor Susanne Clausen, head of the University's Department of Art, said: "The University of Reading has a history of teaching and researching art that stretches back more than 150 years. This challenging and exciting exhibition shows that we're still at the forefront of training the next generation of artists.
"The work on display is the culmination of the study, research and practice of art by our undergraduate and postgraduate students. You will see a range of work in different media that explore what art can do today. Highlights include a curated film space that showcases exciting, cutting edge work of a new generation of video artists, a mini opera inspired by the colour pink, ambitious sculpture, sound and light installations and new thought-provoking approaches to painting and image making."
The Department of Art has a long history, originating over 150 years ago as one of the founding departments of the University of Reading. Among its former students are Turner Prize nominees Cornelia Parker, Richard Wilson and Mike Nelson. One of the Turner Prize judges from 2012, Andy Hunt, director of the Focal Point gallery in Southport, was simultaneously studying for a PhD at Reading.
The Department has also been associated with notable artists such as Walter Sickert and Sir Terry Frost. David Watkins, who graduated from Reading in 1963, was the designer of the medals for the 2012 Olympic Games.
For more information on attending the show please contact Lorraine Spiller l.spiller@reading.ac.uk or call 0118 378 8050.
ENDS
For more information for media contact Pete Castle at the University of Reading press office on 0118 378 7391 or p.castle@reading.ac.uk.
Notes to editors:
Get more information about the Degree Show 2013 >>>
The University of Reading is a top 1% global university with a rich cultural heritage. From fine art to film, music to museums, typography to traditional crafts, our campus is alive with activity all year round. For the first time, this June, we are delighted to host a celebration that brings this activity together into one diverse programme, with something for everyone to enjoy. More information >>>