Queen's Birthday Honours recognition
Release Date 17 June 2013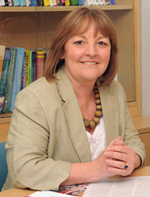 Professor Christine Williams, Pro-Vice-Chancellor for Research and Innovation at the University, has been awarded an OBE for services to higher education and nutritional science in the Queen's Birthday Honours, announced on 15 June 2013. Also honoured was Mrs Muriel Hirst who received an MBE for services to the University of Reading.
Professor Williams is a distinguished scientist with a research career dedicated to improving understanding of the impact of dietary fats on human health, particularly in relation to heart disease and insulin resistance. She is a member of the University's senior management team and has overall responsibility for the leadership of the University's research and innovation strategy.
Professor Williams was appointed the first Hugh Sinclair Professor of Nutrition at the University of Reading in 1995. She has subsequently served as the Head of the School of Food Biosciences, Dean of Life Sciences and Pro-Vice-Chancellor (Enterprise) before taking up her current role as Pro-Vice-Chancellor (Research and Innovation) in 2010.
Professor Williams is frequently involved in providing advice to government and industry on matters relating to dietary policy and actively engages in dissemination of nutritional science to the public. In 1999 she was awarded the Royal Society of Medicine Gold Medal in Nutrition for her contribution to scholarship and education in nutrition. She has also been President of the UK Nutrition Society, Chair of the BBSRC Agri-Food Committee, and she is currently Vice President of the British Nutrition Foundation.
Also honoured is Muriel Hirst who receives an MBE for services to the University of Reading. Mrs Hirst has been associated with the University of Reading for more than 40 years, firstly as an administrative member of staff and then as wife of the late Wallace Hirst, a Professor in Engineering. On his retirement, they initiated an annual scholarship enabling students from the developing world to study for a Master's degree in either agriculture & development or in renewable energy. She has developed this programme since his death in 1997 and in 2010 endowed the fund permanently to ensure a full scholarship and stipend will be available to future generations.
Over the last 15 years, the University has educated Hirst Scholars from The Gambia, Ghana, India, Kenya, Mexico, Nigeria, South Sudan, Uganda, and Zimbabwe. Many have taken senior roles in their countries, including at ministries of agriculture and national agricultural research institutes; as directors of solar energy companies; and in higher education. Others have worked with the UN and the World Bank on projects advancing progress towards the Millennium Development Goals.
Muriel Hirst said: "I have been associated with the University of Reading for more than 40 years, and have supported an MSc student from the developing world every year since 1995 through the Wallace and Muriel Hirst Fund. I am absolutely thrilled to be recognised with an Honour in the Queen's Birthday List, and when receiving it will be thinking of my late husband, Professor Wallace Hirst, each of the Hirst Scholars, and all my friends at Reading over the years."