Giving future pharmacists the business skills to succeed in a changing health-care environment
Release Date 21 June 2013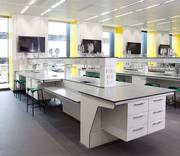 In a unique initiative for the sector, graduates from the School of Pharmacy at the University of Reading will become the first to qualify as pharmacists with a postgraduate management qualification already under their belts.
The new qualification will ensure that students completing their four-year MPharm Pharmacy undergraduate degree at Reading already have a sound footing in the management and the business skills needed to deliver effective change in health-care provision.
Reading School of Pharmacy, in conjunction with the University's Henley Business School, will be offering selected students the option of taking a Postgraduate Certificate of Business Administration alongside their four-year undergraduate degree, from summer 2014.
Dr Alexander Edwards, Lecturer in Pharmaceutics at the University of Reading, said: "This is a UK "first" for pharmacy education. To date, business training, such an important part of the pharmacy skill set, has only been available to pharmacists at postgraduate level. At Reading, we will be instilling business and management skills alongside our very popular undergraduate pharmacy programme to ensure that our graduates are employment-ready to take on roles as the healthcare leaders of the future."
"The new Certificate of Business Administration programme will be available to high achieving students and is designed to boost employability and career earnings as well as providing students with experience in industry. The programme is similar in concept to US postgraduate dual Pharmacy/ Management courses but is delivered at Reading alongside the four-year undergraduate MPharm programme."
Pharmacist Claire-Louise Cartwright, Pharmacy Clinical Service Manager and Pre-registration Pharmacy Manager at the Royal Berkshire Hospital said: "Students with this qualification will definitely be a head above the other MPharm graduates, and have skills that are in great demand within Pharmacy."
The Postgraduate Certificate of Business Administration will be delivered in conjunction with Henley Business School, a leading European business school and part of the University of Reading. The programmes will be jointly led by experienced business practitioners who currently deliver postgraduate healthcare management programmes, alongside Pharmacy school staff and industry and health care professionals.
The 60 credit programme will run post-examinations in the summer term at the end of years 1-3 of the MPharm Pharmacy programme and will include an introduction to management and organisations, managing performance, financial and management accounting principles and leadership.
More information on the School of Pharmacy - www.reading.ac.uk/pharmacy/
More information on the new programme - http://www.reading.ac.uk/pharmacy/ug/pharm-ugcba.aspx