How did Italy become the 'sick man of Europe'?
Release Date 26 June 2013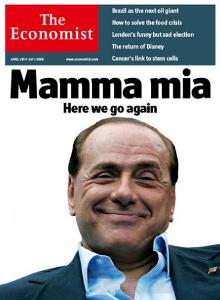 What has happened to Italy over the past 20 years? What has turned the fifth largest economy in the world into one of Europe's alleged 'sick men'?
These and other questions about the current Italian crisis will be discussed by high-profile Italy-watchers at the Association for the Study of Modern Italy (ASMI) Annual lecture 2013, held at the University of Reading.
The ASMI lecture will bring scholars, academics and journalists from across Europe to the Minghella Building at the University of Reading's Whiteknights Campus, on Thursday 27 June at 6pm. Attendance is free.
The lecture is part of the ASMI Summer School (27 and 28 June), a two-day event supported by ASMI, the Royal Historical Society, and the Department of Modern Languages and European Studies at the University of Reading, and co-organised by two Reading-based PhD scholars in Italian Studies, Gian Paolo Ghirardini and Ilaria Poerio, together with other doctoral students in Italian history and culture based at Queen Mary, Royal Holloway, and UCL.
The 2013 ASMI lecture will be a conversation with Bill Emmott, former editor of The Economist, and Annalisa Piras, London correspondent of Espresso and film-maker, on their thought-provoking documentary Girlfriend in a Coma. This much talked about film analyses the political and moral crisis that is marking the decline of contemporary Italy.
The lecture will shed light on the unexpected resurgence of Silvio Berlusconi and the unpredictable success of Beppe Grillo's 'Movimento 5 Stelle' (Five Star Movement), the new political formation that has taken Italy by storm and gained more than a quarter of votes in the February 2013 general election.
Daniela La Penna, senior lecturer in Italian Studies at the University of Reading, said: "We will be debating the destiny of a country whose virtues and misdeeds seem to be inextricably intertwined. Participants will be able to discuss the causes of a twenty-year decline to discern what is good and what is bad in Italy today."
For more information about the ASMI Annual Lecture 2013 please contact: asmi.annual.lecture2013@gmail.com or visit www.asmi.org.uk.
ENDS
For more details or to organise interviews contact Pete Castle at the University of Reading press office on +44 (0)118 378 7391 or p.castle@reading.ac.uk.
Notes to editors:
The University of Reading is a top 1% global university (THE World University Rankings). The Italian Studies programme, delivered through the Department of Modern Languages and European Studies, is one of the largest and most prestigious of its kind in the UK. It was founded in 1948 by the distinguished writer Luigi Meneghello, and enjoys an outstanding record in teaching and research.
The University of Reading's Professor Christopher Duggan, Professor of Italian History, is an award-winning author on Italy and regular commentator on Italian political life. Read his comment on Berlusconi's 'bunga-bunga' guilty verdict here >>>