Teaching excellence at the University of Reading recognised again
Release Date 27 June 2013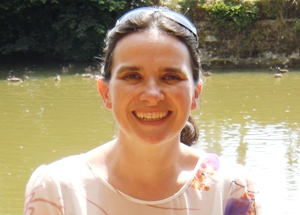 A University of Reading member of staff has been rewarded for her commitment to improving teaching and learning of students in a national award scheme.
Dr Anne Crook, from the University's Centre for Quality, Support and Development (CQSD), has been awarded a National Teaching Fellowship. She is among only 55 recipients of this year's award, which is presented by the Higher Education Academy to celebrate individuals who make an outstanding contribution to teaching and learning and the student experience.
Anne is a leading member of the University of Reading's teaching and learning community and as Enhancement Manager (Teaching and Learning) she works with academics, support staff, students and senior management to enhance institutional teaching practices.
Professor Gavin Brooks, Pro-Vice-Chancellor for Teaching and Learning at the University of Reading, congratulated Dr Crook on her award.
He said: "I am delighted that the Higher Education Academy has recognized Anne Crook's contribution to the teaching and learning community by awarding her a National Teaching Fellowship. This is a well deserved award for Anne, who has dedicated much of her career to promoting and enhancing teaching excellence.
"National Teaching Fellowships are highly distinguished honours - only a small number are awarded each year, and they are only given to those who can demonstrate individual excellence in teaching and learning and who make an outstanding impact on the student learning experience.
"I'm particularly pleased that Anne has continued a recent run of successes for University of Reading academics in these awards - last year, for example, Professor Rachel McCrindle and Helen Bilton were awarded Fellowships bringing the total number of academic staff who hold NTFS awards at Reading to seven. This clearly demonstrates the University's continued commitment to maintaining and improving the quality of teaching and learning for current and future students."
Anne's approach to teaching is heavily influenced by her varied teaching background, including her work as a college tutor at Oxford University and as a research active lecturer in Zoology at University College Cork. It was a passion to further her understanding of supporting student learning, in particular through three areas -assessment, feedback and undergraduates' research skills development, that led Anne to focus her career on teaching and learning support at the University of Reading.
Recently Anne has used her teaching experiences to develop a suite of practical open-access resources for staff to enhance their teaching practices, for example, Engage in Feedback with Professor Julian Park and Engage in Assessment. These have been instrumental in supporting change at the University of Reading, as well as attracting substantial national and international interest.
She is also a regular contributor to journals focusing on teaching and is a popular invited speaker at teaching and learning events across the UK.
She said: "I'm delighted to have been awarded a National Teaching Fellowship. Not only is it an honour to be recognised by fellow professionals, but this award shows the importance placed on teaching and learning at the University.
"I want to thank all the staff and students at Reading and beyond who have supported my work over the years, in particular Professor Julian Park, Associate Dean for Teaching and Learning in the Faculty of Life Sciences, and my fantastic colleagues in (CQSD)."
This year's Fellows were chosen from 180 nominations submitted to the NTFS by higher education institutions, and will each receive an award of £10,000, which may be used for professional development or aspects of teaching and learning.
Professor Craig Mahoney, Chief Executive of the HEA, said: "The 55 new National Teaching Fellows announced today are all an inspiration to me. They have each made a significant impact on the teaching at their own institution, and many of them even further afield.
"Becoming a National Teaching Fellow is a great honour and will undoubtedly lead to many new and exciting challenges, but I believe that it is students who will benefit most from these awards. Our students deserve the best possible learning experience and it is colleagues like those we celebrate today who can make a real difference to their futures."
ENDS
For more details please contact Pete Castle at the University of Reading press office on 0118 378 7391 or p.castle@reading.ac.uk.