New research could be key to stopping spread of killer diseases


Release Date 01 March 2013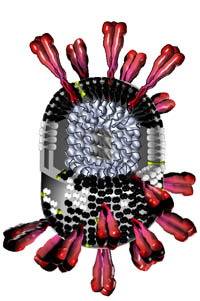 New research from the University of Reading could be crucial in the fight to stop the spread of killer viruses such as HIV and avian flu.
Dr Ben Neuman has discovered a key step that some of the world's most dangerous viruses take when they attempt to leave cells in our bodies. Understanding how these viruses transfer from cell to cell is vital for scientists looking for ways in which to combat the spread of deadly diseases.
The spreading of viruses is a major global health concern. According to the World Health Organisation 1.8 million people died in 2010 from AIDS, which is caused by contracting the virus HIV, while recent outbreaks of SARS and avian flu have caused many deaths around the world.
Scientists know that different viruses all exit cells via the same route but did not know how they broke through the cell membrane, until now.
Dr Neuman, from the University of Reading's School of Biological Sciences, said: "Our research looked at SARS virus, which is closely related to the new coronavirus, haemorrhagic fever viruses and close relatives of avian flu and HIV. We know that these viruses use totally different-looking 'tools' (called matrix proteins) to unlock a cell 'door' but we made the exciting discovery that they all use the same method."
The researchers discovered that all of these viruses exit the cell by overloading one side of its membrane with their proteins. The matrix proteins all nestle into the membrane like little wedges, prying apart the molecules that make up the membrane and opening the cell 'door'.
Membranes are rich in phosphorous atoms, which stand out in pictures taken with an electron microscope. Comparing membranes with and without matrix proteins showed that a considerable amount of phosphorous was missing where it had been pushed aside by matrix proteins.
Dr Neuman added: "We don't know precisely what happens next but this is a big step toward understanding how particularly nasty viruses spread from one cell to another cell. Once you understand how something happens you have the potential to stop it."
Dr Neuman's paper, Direct observation of membrane insertion by enveloped virus matrix proteins by phosphate displacement, was published in PLoS ONE on 1 March.
ENDS
For all media enquiries please contact James Barr, University of Reading Press Officer on 0118 378 7115 or by email on j.w.barr@reading.ac.uk
Follow us on Twitter | Like us on Facebook | Read our research blog 'The Forum'
Notes for editors:
The University of Reading is ranked among the top 1% of universities in the world (THE World University Rankings 2012) and is one of the UK's top research-intensive universities.