VEERU becomes official adviser to the UN's Food and Agriculture Organisation
Release Date 12 March 2013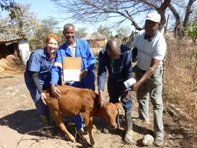 The Veterinary Epidemiology and Economics Research Unit (VEERU) at the University of Reading has become one of only 19 bodies worldwide to be approved as an FAO Reference Centre, providing independent advice and support to the Food and Agriculture Organisation (FAO) of the United Nations.
VEERU has been designated FAO Reference Centre for veterinary epidemiology and economics and will work with the FAO to help it achieve global food security for all through its aim to raise levels of nutrition and improve agricultural productivity.
Professor Richard Ellis, Dean of the Faculty of Life Sciences at the University of Reading, said: "The designation of VEERU as an FAO Reference Centre is recognition of the unique expertise among its staff. Since its foundation over 35 years ago, VEERU has played a key role in the international development work of the University. Along with Reading colleagues working across disciplines in agriculture, food, and climate science, it provides the foundation for the University's work as a leading Centre for Food Security."
VEERU works with government veterinary departments and international agencies to support animal health policies throughout the world. In particular, VEERU has developed research-led, evidence-based specialist training programmes to support capacity building developing countries -it is currently involved, for example, in an EU-funded project designed to help control rabies and classical swine fever in the Balkans through the reconstruction of veterinary services in Kosovo.
Other recent work undertaken by VEERU includes: a commission from DEFRA to look at bovine TB in cattle and badgers; analysis of African horse sickness and its threat to the UK horse sector; and a Wellcome Trust project considering the impact of avian influenza on small holders in Vietnam. VEERU has already collaborated with the FAO on Foot and Mouth disease risk analyses in South America and South East Asia.
Dr Tony Wilsmore, Director of VEERU at the University of Reading said: "VEERU's combination of interests enables us not only to work on animal health and welfare, but also to work towards giving more livestock producers, especially those from developing economies, the opportunity to sell livestock and their products on the world market without risk of spreading disease to other animals or putting human health at risk.
"Recognition as a Reference Centre by FAO is an acknowledgement of the work VEERU has already undertaken together with FAO in Africa, Asia and South America. This recognition of our resources with regard to both veterinary epidemiology as well as animal health and production economics, should lead to further opportunities for research, training and advisory services in these fields by VEERU alone, and also working together with other Departments within the University."
VEERU was established in 1977 and is part of the School of Agriculture, Policy and Development at the University of Reading. Throughout its more than 100 year history, the School has played a leading role in helping Governments devise policies and capacity building in the areas of agriculture, feed and food safety, veterinary services, and animal welfare policy.
FAO Reference Centres work with the FAO to assist UN member nations, particularly developing countries, with advice and expertise on veterinary epidemiology and livestock economics.
More information at http://www.veeru.reading.ac.uk/
Veterinary epidemiology is the study of disease patterns within animal populations.
Epidemiology is the study of disease in populations. It incorporates surveillance for disease which reveals, not only when and where they occur, and in what species, but also patterns of disease and factors which influence their spread or regression. The knowledge gained allows the risks of them occurring and their impacts to be addressed. Armed with this information, evidence-based prevention, control and eradication strategies can be formulated.
Many challenges to animal health and veterinary public health remain, providing research opportunities in the fields of veterinary epidemiology and livestock economics which VEERU and the University of Reading more widely will continue to exploit. In UK, for example, despite large sums of money having been spent on research into bovine tuberculosis, including epidemiology studies which have revealed the part wildlife, particularly badgers, play in the maintenance of the disease, successful and cost effective strategies have yet to be found for this cattle disease with its welfare, livelihoods and potential public health impacts.