University showcase for prospective students - UCAS Fair 25-26 March
Release Date 21 March 2013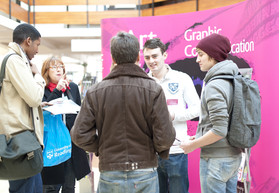 The University of Reading is delighted to host the Thames Valley UCAS Higher Education Conference on its award-winning Whiteknights campus on Monday 25 and Tuesday 26 March.
The Conference, which is set to attract over 8,000 people, provides prospective students from across the region with an opportunity to talk to people from 140 different universities about the range of courses on offer in higher education. There will also be talks on a wide range of subjects from accountancy to zoology, many of which will be given by University of Reading academic staff.
Professor Gavin Brooks, Pro-Vice-Chancellor for Teaching and Learning at the University of Reading, said: "On behalf of the University of Reading, I am delighted to welcome the thousands of prospective students from secondary schools across the region who are attending the UCAS Fair.
"The Fair represents a great opportunity for anyone considering higher education to talk directly to universities on a 1-to-1 basis, hear about the realities of university life and learn more about the incredible range of courses available at university. We hope the young people attending will be inspired, enthused and better informed about what university can contribute to their future lives."
The Conference is organised by education charity Adviza, the University of Reading, the University of West London and UCAS.
Further information about the UCAS convention >>>
See photos of the University of Reading's Whiteknights campus and teaching facilities on Flickr >>>
View the University of Reading's own online prospectus for 2014 entry >>>
---
Follow us on Twitter | Like us on Facebook | View our photos on Flickr