Lisa Dwan mesmerises audience in rare performances of Beckett's iconic 'Not I'
Release Date 01 May 2013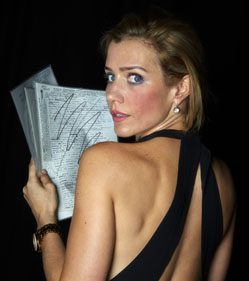 Celebrated Irish actress Lisa Dwan wowed audiences at the University of Reading last weekend during two rare performances of Samuel Beckett's iconic work 'Not I'.
Held in the Minghella Building, the University's £11m new state of the art home for its Department of Film, Theatre and Television, Lisa played the role of Mouth in what is one of the most inspiring and challenging pieces in theatre history.
Lisa and attendees also had the unique chance to see Beckett's original 'Not I' manuscript; usually stored in the University's Beckett Archive, but was on display both nights.
Lisa Dwan, whose film credits include Walt Disney's Oliver Twist with Richard Dreyfus and Elisha Wood, and John Boorman's Tailor of Panama, said: "It was a complete privilege for me to have been invited to perform at the University of Reading. The new Minghella building is a fantastic space. It was incredible to be granted the rare opportunity to view Beckett's original manuscripts and discuss them with some of the world's experts on Beckett."
'Not I' is a short dramatic monologue (c.10mins) that takes place completely in the dark illuminated only by a single beam of light. This fixes on the actress's mouth above the stage, everything else being blacked out.
It is 40 years since the premiere of 'Not I' at the Royal Court Theatre in London, which featured Beckett's muse, Billie Whitelaw in a groundbreaking performance. Following 'Not I' the audience watched a fascinating 10 minute documentary film featuring an interview with Billie Whitelaw. Lisa then explored the challenges of playing Mouth during a Q&A session.
Josh Dugdale, who was in Friday's audience, said: "A wonderful performance by a brilliant actress. Inspiring, intimate and thought provoking."
This production was part of a series of events celebrating the 25th Anniversary of the Beckett International Foundation at the University of Reading, a charitable trust set up by Professor James Knowlson (Beckett's biographer) and Samuel Beckett in 1988. The Foundation fosters the work of Samuel Beckett and administers the Beckett Archive, the largest collection of material pertaining to the Nobel Prize winning author. The late Anthony Minghella, a patron of the Foundation, named Reading's Beckett Archive as one of the 'best-kept arts secrets in Britain' (The Observer, 17 September 2006).
Dr Mark Nixon, Director of the Beckett International Foundation, said: "It was a privilege to welcome Lisa Dwan to the University of Reading to perform 'Not I'. This play is rarely staged due to its technical difficulties and the demands it puts on the actress performing the role."
The University of Reading has a rich cultural heritage, from fine art to film and music to museums. This summer the University will be celebrating its arts and cultural links and expertise through a series of special events to be announced soon.
ENDS
For all media enquiries please contact James Barr, University of Reading Press Officer on 0118 378 7115 or by email on j.w.barr@reading.ac.uk
Follow us on Twitter | Like us on Facebook | Read our research blog 'The Forum'
Notes for Editors
The Department of Film, Theatre & Television is a dynamic and creative department which has been leading its field for over four decades. It pioneered the teaching of film studies in British Higher Education, and has an established world-leading reputation.
In the last research assessment (2008), 90% of its research was scored as being of world-leading or internationally-excellent quality. Its strong research environment enables it to deliver one of the most exciting, innovative and unique courses on offer in the UK.
Lisa Dwan has worked extensively in theatre, film and television both internationally and in her native Ireland. Film credits include; Walt Disney's Oliver Twist with Richard Dreyfus and Elisha Wood and John Boorman's Tailor of Panama and Bhopal-A Prayer for Rain due for release this year. In 2012 she adapted, produced and performed the critically acclaimed one woman play Beside the Sea at the South Bank Centre and on tour and starred in Goran Bregović's new music drama, Margot, Diary Of An Unhappy Queen at the Barbican. She most recently performed in Ramin Gray's production of Illusions by Ivan Viripaev at the Bush Theatre.