World ranking for 13 subjects at University of Reading
Release Date 08 May 2013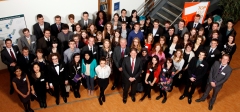 Agriculture at Reading rated 11th best in the world
The University of Reading ranks among the world's top 200 higher education institutions in 13 of the subjects featured in this year's QS World University Rankings by Subject.
The University of Reading is the most highly ranked UK institution in the world for Agriculture at 11th position in the world rankings. In the arts and social sciences, the University achieves a top 200 position in English Language & Literature, History, Linguistics, Modern Languages, Philosophy, Education, Law and Politics, as well as Accounting and Finance in business. In the sciences, both Geography and Environmental Sciences are rated among the top 100 with Statistics also in the top 200.
Professor Mike Gooding, Head of the School of Agriculture, Development and Policy, said: "We are delighted at the news. Being ranked at the top of international and UK league tables reflects our commitment to add value to the experience of our students, and to serve the industries to which they aspire. The University of Reading is the forefront UK University for delivering research, teaching and innovation that integrates primary food production, food security and climate change. This position derives from world-leading and long-standing capabilities in agriculture and horticulture, food and nutrition, and meteorology."
Professor Gavin Brooks, Pro-Vice-Chancellor for Teaching and Learning at the University of Reading, said: "I am delighted that the University has demonstrated such strength in depth across the arts, social sciences, sciences and business. In particular, it is gratifying that our work as a major centre for food security has been recognised by a world-leading ranking in the agriculture subject area."
The University has maintained a considerable reputation in agriculture since the 1800s. Its focus is to address the major challenges and opportunities in the sector for the 21st century. Research and teaching in the School of Agriculture, Policy and Development addresses food production, the sustainability of agro-ecosystems, food security, adaptation and mitigation to climate change, food chains and health, animal welfare and behaviour, poverty alleviation, international development, and consumer behaviour and choice.
The QS World University Rankings By Subject 2013 are based on measures of academic reputation, the employability of graduates as rated by major employers and citations for published research.
More information at www.reading.ac.uk/apd
More information on the rankings at http://www.topuniversities.com/subject-rankings