Community open evening goes green
Release Date 14 May 2013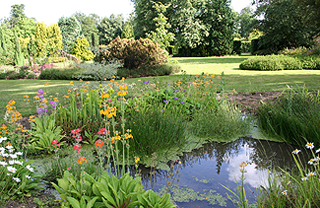 The University of Reading is delighted to invite local residents to its next Community Open Evening taking place on Monday 20 May at the University's Whiteknights campus.
Attendees will have the opportunity to tour the University's beautiful Harris Garden and tropical greenhouse. Residents will also have the opportunity to meet staff and students from the School of Biological Sciences, Friends of the Harris Garden, plus their artist in residence, Jenny Halstead.
There will also be the chance to pose questions to Sir David Bell, Vice-Chancellor of the University of Reading, who will share his thoughts about the University's role in the community and discuss the University's wider plans including current and future developments.
Sir David Bell said:
"The University works closely with its neighbours and is proud of the role it plays in the local community. We welcome local people's views and look forward to sharing the University's plans for the future."
Ann Westgarth, University of Reading's Community Relations Manager, said:
"The 12 acre garden contains 50,000 bulbs, formal borders, and unusual mature trees, so is a wonderful asset for the local community to enjoy. It is also the venue for regularly run fundraising events in partnership with local charities, plus a teaching resource for students."
Set in the home paddock of a Victorian house (now demolished), built in the famous landscape garden created at White Knights by George, Marquis of Blandford (later 5th Duke of Marlborough) between 1798 and 1819. It is named in the memory of the late Professor Tom Harris, a distinguished palaeo-botanist and keen gardener.
The two hour event begins at 6pm. Admission is free but spaces are limited. To book a place, please contact email events@reading.ac.uk or tel. 0118 378 4313
ENDS
The University of Reading is ranked among the top 1% of universities in the world (THE World University Rankings 2012) and is one of the UK's top research-intensive universities.
For more information please contact Anju Sarpal, Pete Castle or James Barr University of Reading Press Officers on 0118 378 7388 or by email on a.sarpal@reading.ac.uk
Follow us on Twitter | Like us on Facebook | Read our research blog 'The Forum'