Reading students get career boost after beating Durham and Exeter in national comp
Release Date 14 May 2013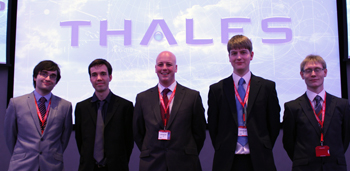 A team of University of Reading students has received a career boost after winning a national competition designed to support the next generation of technology talent.
The five team members, all studying different subjects, joined forces to fend off rivals from the Universities of Durham and Exeter to win paid internships at global technology leader Thales.
Universities from across the UK entered the competition which was organised by Thales Group with support from MyKindaCrowd. Reading, Durham and Exeter were short-listed for the final which was held on 8 April 2013 at Thales UK's headquarters in Crawley, West Sussex.
Students were set the task of providing a training solution using readily available technology to design a 'free' (or very low-cost) training system to meet a civil or military training need. Each team had one month to create a training solution that could double as a good business model and a good training solution.
The winning University of Reading team's training solution focussed on cultural naivety. Team 88mph identified a problem with individuals adapting to different cultures when travelling. Their solution trains one individual to interact with another culture, whilst adhering to the culture's social rules. Individuals' success is measured by how closely their responses match an 'ideal' response.
All three teams were judged on the relevancy of the training system to its field, market and business potential, the level of innovation and the appropriate use of technology used for their proposed training solution.
Chris Borrill, Vice President of Training Solutions at Thales and one of the judges, said
"Often the best ideas are simple, and as technology increasingly makes the world smaller, it seems very fitting that the University of Reading's Team 88mph used technology to help individuals understand the nuances between cultures.
"Team 88mph's use of a multi-disciplinary team resulted in a well structured and well thought-out solution that can be applied to a variety of applications such as helping humanitarian aid personnel, corporate sales teams and even Soldiers gaining a better understanding of cultural differences in order to achieve their goals. The team richly deserved to win and we look forward to them joining us in the summer for their placements."
A recent High Fliers report shows just how important work placements are for securing graduate employment. The study found that a third of jobs will be filled by graduates who have already spent time at a company, through work experience or industrial placements during their degree.
Winning team member John Hill, 23, said: "The challenge has been an excellent opportunity to meet and work with other dedicated Reading students at a task which has already provided me with a unique example for showcasing my skill sets in interviews. Creating our solution was a particularly interesting exercise and the advice from both Thales and MyKindaCrowd along with presenting to a senior board of directors has been invaluable to my personal development, and this was just from taking part! I strongly recommend it for anyone interested in participating next year."
ENDS
For all media enquiries please contact James Barr, University of Reading Press Officer on 0118 378 7115 or by email on j.w.barr@reading.ac.uk
Follow us on Twitter | Like us on Facebook | Read our research blog 'The Forum'
Notes for Editors
The winning team comprised of:
Callum Duffy BSc AI & Cybernetics
John Hill BSc Applied Computer Science
Paul Ayling BSc Applied Computer Science
Will Smith BEng Electronic Engineering
Iain Farquhar BSc Systems Engineering
About Thales
Thales is a global technology leader for the defence & security and the aerospace & transport markets. In 2011 the company generated revenues of £11.4 bn (€13 bn), with 67,000 employees in 56 countries. With its 22,500 engineers and research­ers, Thales has a unique capability to design, develop and deploy equipment, systems and services that meet the most complex security requirements. Thales has an excep­tional inter­national footprint, with operations around the world working with customers and local partners. www.thalesgroup.com
About MyKindaCrowd
MyKindaCrowd provide a measurable social benefit for young people, society and the UK economy. Their social vision is to level the playing field by allowing young people to connect with relevant companies, whatever their background. MyKindaCrowd have won the UK's most prestigious Social Enterprise awards; UnLtd 'Big Venture Challenge' and BiTC Olympic Legacy 'Arc' award.
In the 12 months MyKindaCrowd have launched in 92% of universities and 32% of schools and colleges.