Wolfson Prize for History won by Duggan's Fascist Voices
Release Date 15 May 2013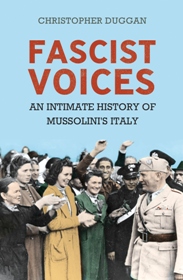 Professor Christopher Duggan's book, Fascist Voices: An Intimate History of Mussolini's Italy, was awarded The Wolfson History Prize at a ceremony at Claridge's Hotel last night.
Watch Professor Duggan talking about his book >>>
Professor Duggan, Professor of Modern Italian History and Head of School at the University of Reading, is a world-leading authority on the political, social and cultural history of modern Italy.
Fascist Voices sets out to examine why so many millions of Italians gave their support to the fascist regime, and details the often intense personal relationships that countless men, women and children had with Benito Mussolini, the dictator, who seemed to many to have an almost divine status.
The book draws on the private diaries, letters and autobiographies of those who lived through Italy's fascist regime, to uncover how ordinary people experienced fascism. Professor Duggan also had access to the reports of the Italian secret police to be able to paint a vivid picture of what people on the street were saying about Mussolini and the fascist state.
Professor Duggan said: "While Mussolini's Italy was a regime based on violence that suppressed opposition and dissent, it was also a regime that offered to fulfil the long frustrated hopes of those who wanted Italy to be a strong and great nation, worthy of its glorious past.
"This fascinating material suggests that while people may have disliked certain aspects of the regime, they had extraordinary faith in 'Il Duce', and more broadly in fascism; and this faith endured well into the Second World War. After all, the regime had managed over a period of twenty years successfully to discredit both liberalism and socialism, and as a result most Italians found it very hard to imagine the country with any other political system than fascism, in one form or another."
First awarded in 1972, The Wolfson History Prize is a beacon of the best historical writing being produced in the UK.
Wolfson History Prize judge Sir Richard Evans described it as a book which "uses new sources ... to chart the changing views Italians held of their leader. What comes across is not only the popularity of many of his actions, notably the invasion and conquest of Abyssinia, but also the extent to which he kept down dissent and opposition by means of a vast apparatus of surveillance and repression ... It illuminates Mussolini's relationship with the Italian people to a degree that has never been done before, and with a style and flair that makes for a book that is compulsively readable as well as scholarly and persuasive."
Since its publication last year, Fascist Voices has met with considerable critical acclaim. The Financial Times called it an 'excellent new history of Italian Fascism', and the Times Literary Supplement said it was 'a fluid and absorbing book'. It was described in the London Review of Books as a 'magnificent new book, a path-breaking study that everyone interested in Fascism, or in Italy past and present, should read,' while History Today said it was 'an elegantly written study that is the work of a historian at the height of his powers.' Professor Duggan's book has already won Political History Book of the Year at The Paddy Power and Total Politics Political Book Awards 2013 which recognises the very best in political writing and publishing.
Professor Duggan, who joined the University of Reading in 1987, has written a number of influential books on many aspects of modern Italy. In 2008 he was honoured for his services to Italy when he was made a Commander of the Order of the Star of Italian Solidarity, a knighthood conferred by the President of the Republic of Italy.
Fascist Voices: An Intimate History of Mussolini's Italy is published by Bodley Head.
See a YouTube video of Professor Duggan talking about his book here >>>