A month of music, film, art, poetry – a new celebration of arts and culture at Reading
Release Date 17 May 2013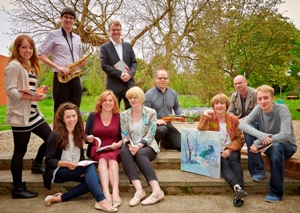 From training Turner prize-nominated artists, producing rare plays, screening the best of world cinema and carrying out world-leading research into the arts, the University of Reading has been at the forefront of art and culture since its origins in the 1800s.
Now, for the first time, the University is producing a celebration of arts and culture - a summer season of activities open to the public, showcasing the rich and diverse world of arts happening right here in Reading.
The season of activities, launched with an evening of art and poetry last week at the Museum of English Rural Life (MERL) at the University's historic London Road campus, runs from the end of May and throughout June. Many are free to attend.
Sir David Bell, Vice-Chancellor of the University of Reading, said: "Arts and culture are vital parts of our everyday life. They bring us enjoyment, stir the imagination and inspire us to create and learn. The University of Reading has a rich cultural heritage, from fine art and film to music and museums.
"We are proud to be able to bring together a range of artistic activities in a single month of colour and creativity on our campuses and share them with the public."
The programme will feature a selection of special events, including a Celebrating the sounds of the 60s evening in tribute to the late songwriter Geoff Goddard, who worked at the University, on 31 May [book tickets], the inaugural Reading Poetry Festival from 5-9 June [book tickets], and Sir David Bell 'in conversation' with Darren Henley, Director of Classic FM, on 26 June.
These events will run alongside popular favourites such as the MERL Village Fete on 1 June and the University's Art Degree Show, where the Tracy Emins and Damien Hirsts of the future will be displaying their work to the public between 10-14 June.
For a full list of events during the University's celebration of arts and culture visit the University of Reading events page.
ENDS
For more information contact Pete Castle or James Barr at the University of Reading press office on 0118 378 7391/7115 or p.castle@reading.ac.uk.
Notes to editors:
See a full list of events for the Celebration of Arts & Culture 2013 here >>>
Many notable figures in the arts world have studied at the University of Reading, including:
Jamie Cullum, jazz musician
Michael Rosen, author, poet and broadcaster
Julian Barratt, comedian and writer (The Mighty Boosh)
Mike Nelson, installation artist (twice nominee for the Turner Prize)
Cornelia Parker, sculptor and installation artist (Turner Prize nominee)
Richard Wilson, installation artist (twice nominee for the Turner Prize)
Rhianna Dillon, film critic, BBC Radio 1
Arthur Brown, rock singer
Simon Bell, theatre director
James Chapman, aka 'Maps', musician (nominated for the Mercury Music Prize)
Andy Mackay, composer and member of Roxy Music