University celebrates music legend Geoff Goddard
Release Date 24 May 2013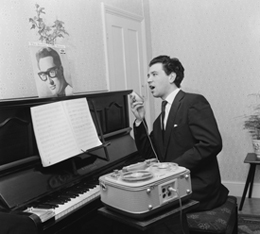 Get ready for an evening of 60's foot-tapping fun and nostalgia on Friday 31 May when the University of Reading celebrates Reading-born musician and song-writer Geoff Goddard.
Former BBC Radio 1 DJ Mike Read is your compere for Celebrating the sounds of the 60s - A tribute to Geoff Goddard. The concert is the University of Reading's tribute to Geoff who, following his successful music career, worked in the University's catering department for over 20 years, before his untimely death in 2000.
The audience is in for a special treat as Geoff's biggest hits will be performed by the original artists. John Leyton, who sung Johnny Remember Me, and Mike Berry who sung a Tribute to Buddy Holly, will perform live in the University's students union.
Earlier in the day the University will celebrate Geoff's musical achievements and his service to Reading by unveiling a special plaque on the wall of the building where he worked.
Friend and fervent admirer, Emeritus Professor Jim Knowlson, said: "Geoff Goddard was a strange, shy, modest man. But he was an undoubted star. He needed no music: you asked him for something, he played it. Usually he played for nothing, as he did at my retirement dinner.
"During his time working at the University of Reading, trained as he was at the Royal Academy of Music, Geoff often played the piano at special Christmas lunches in the Orange Room, at parties in the Senior Common Room and for groups of OAPs and Care Home residents.
"But I also knew him (as Britain and the rest of Europe did) as a prolific, leading British composer with several big hits and many memorable songs, until he turned his back on the music industry in 1967. This Friday's concert, with the original recording artists singing live, promises to be a special, memorable evening for this local composer.
"Geoff is no longer widely known except to the cognoscenti. But he fully deserves to be. He worked with the legendary independent producer Joe Meek and his songs encapsulated the pre-Beatles early sixties. They included a no. 1 and a no. 2 (both recorded by John Leyton) and were in the UK music charts for weeks on end. Few songwriters could match his achievements, especially over so short a time period. John Lennon, Paul McCartney, Burt Bacharach, Elton John, and Phil Spector are among the select few."
The plaque will be unveiled by renowned actor and singer John Leyton at a small private ceremony in Park House on the University's Whiteknights Campus where Geoff worked.
John Leyton, who starred in the film The Great Escape, said: "Geoff Goddard was a hugely talented songwriter. His unusual lyrics, a galloping rhythm and tempo, combined with the sound Joe Meek created from his 1st floor flat studio, meant Geoff's songs were immensely likeable and popular. He was also a wonderful musician, and played classical and pop music brilliantly, effortlessly switching between the two which is a rare gift.
"It's wonderful that the University is honouring Geoff and I'm very much looking forward to coming to the Whiteknights Campus on Friday. I owe an enormous amount to Geoff. He was a lovely man and I have very fond memories of our time together. He wrote all my hits and was a massive influence on my music career."
"Sir David Bell, Vice-Chancellor of the University of Reading, added: "We are delighted to be celebrating Geoff Goddard's contribution to music, and indeed his considerable service to the University."
Celebrating the sounds of the 60s - A tribute to Geoff Goddard, performed live by John Leyton and Mike Berry, Supported by The Outlaws, compered by Mike Read, will take place on Friday 31 May 3sixty, Reading University Students' Union, University of Reading, Whiteknights campus,
Doors open at 7.00pm, concert starts at 8.00pm. Tickets: £15/£10 (concessions) available in advance online via the University store >>>
There will be a licensed cash bar with food available to purchase.