Telling the stories of the University's World War 1 heroes
Release Date 08 November 2013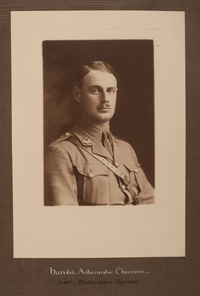 Watch the researchers talk about the project
The stories of some of the brave men and women who fell during WW1 are being revealed through the University of Reading's Reading Connections project.
Using a commemorative book housed in the University's archive, images of those who died in the Great War who were connected to the University, then Reading University College, have now been digitised. Many of the 146 individuals are listed on the war memorial on the London Road Campus.
With the help of local volunteers, University researchers have explored their service history, personal details and connections with the University. The research team is keen to enlist the public's help in building a wider picture of those who lost their lives as well as providing vital information on those they know little about.
Phillippa Heath, Project Officer said: "A key aim of this project is to encourage others with connections to these servicemen and women to come forward. There are some lives we know much about, but others we know very little about such as 'H Turner'. Despite a great deal of research we have not been able to find out who he was or what his connection to Reading University College was. All we know was that he served in the Royal Navy as a submariner. Perhaps there is a relative that could help us?"
Jeremy Jones, project volunteer, added: "The project has been both interesting and thought-provoking. The ages of those who died range from 18 to 45, with the majority being aged 30 or less. These were people who had barely set out on their adult lives and it is impossible not to be moved by the thought of the youthful hopes and dreams that must have gone unfulfilled and of the impact on their families. I hope that our work will contribute to an increased awareness of the impact of the Great War and the people who participated in it, so that we can see those who died as more than just names on a memorial."
The stories behind the faces in the Reading University College WW1 memorial book can be explored on the Reading Connections project Flickr. Anyone with more information about any of the individuals listed is invited to contribute via Flickr or by contacting p.heath2@reading.ac.uk.
Reading at War forms part of The Arts Council England's Reading Connections project. This project aims to develop community engagement through the creation of digital resources, oral histories, exhibitions around the theme of 'Reading at war' and local Reading photography based on a partnership between the Museum of English Rural Life and Reading Museum.