University museums benefit communities and boost HE sector
Release Date 18 November 2013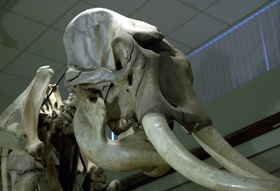 A report published last week has highlighted the outstanding contribution made by UK university museums to higher education as well their value in the community.
Compiled by the University Museums Group (UMG) and University Museums in Scotland (UMIS), the report shows university museums leverage crucial funding, deliver outstanding teaching and learning, conduct international research and impact on our lives through fascinating exhibitions and outreach programmes.
The University of Reading houses three museums - The Museum of English Rural Life, the Cole Museum of Zoology and the Ure Museum of Greek Archaeology.
Kate Arnold-Forster, Head of University Museums and Special Collections Services at the University of Reading and Joint Chair of the UMG, said: "This report celebrates the exceptional contribution university museums make to higher education and communities across the country. Our three museums offer a range of exciting, interactive and educational exhibitions. Last year over 55000 people, including nearly 1500 schoolchildren, enjoyed visiting our museums.
"The report contains case studies which illustrate the contribution of University Museums to higher education. For example, 'Object Based Learning for Higher Education' a joint project between Reading's University Museums and UCL Museums, has created new learning resources around the combined collections and underpinned by 150 000 digital object records, to which Higher Education institutions across the country have access.
University museums hold 30% of nationally-significant collections but constitute only 4% of England and Wales' museums. The collections at the Museum of English Rural Life, the most comprehensive national collection of objects, books and archives relating to the history of food, farming and the countryside, have 'designated' status ensuring their importance is recognised nationally and internationally.
The Ure Museum of Greek Archaeology houses Britain's fourth largest collection of Greek ceramics. Fabulous displays of pottery, extraordinary metal and stone artefacts and antiquities provide a unique insight into ancient history and The Cole Museum houses one of Britain's most important zoological collections, with highlights including complete skeletons of a male Indian elephant, a killer whale, a five metre reticulated python and a pair of giant spider crabs.
The report also shows how University Museums deliver unique benefits to the HE and wider cultural sector and have demonstrated exceptional performance in leveraging funding.
Sally MacDonald, Joint Chair of the University Museums Group, added: "We hope this report provides a valuable perspective on the great potential of university museums to enhance the quality and vitality of higher education in challenging economic times."
For more information about the University of Reading's museums visit http://www.reading.ac.uk/about/about-museums.aspx