Curtain rises on Reading graduates' West End debut
Release Date 22 November 2013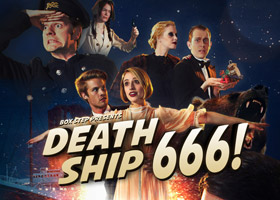 Following a sell-out run at this year's Edinburgh Festival, two University of Reading alumni are set to transfer their Titanic parody show, 'Death Ship 666!' to London's West End next week.
The show, which will open in the Jermyn Street Theatre on 26 November, has received numerous five star reviews and been deemed "ingenious" and "simply unmissable" by the national press. With six actors playing over thirty different characters, critics have described it as 'Titanic' meets 'Airplane!', with its fast-paced wit and style aligned with the 'Book of Mormon' and 'The 39 Steps'.
Michael Clarkson (Film and Theatre, 2009) and Gemma Hurley (English Literature, 2009) met whilst studying at the University and began working together when they discovered a mutual love of writing and comedy. They created Box Step Productions along with Michael's twin brother Paul, and have received over a quarter of a million views on YouTube for their viral comedy parodies 'Fellowship of the Ringwraiths' and 'Star Wars Disney Musical'.
Michael said: "Without the University of Reading there wouldn't be a 'Death Ship 666!' - after meeting at Reading, Gemma and I wrote together and performed in each other's plays. We were also part of the first set of students to do the Creative Writing module in the English Department, and it's during this time that we realised we not only loved writing, but together - were good at it too.
"In Film and Theatre, I learned the tools needed to inspire my directing, which I took full advantage of when directing 'Jesus Christ Superstar' as the Drama Society's main musical in 2009, which sold out every day (Gemma played a leper). It was during a night off from revision when we were laughing at 'The Towering Inferno', 'Titanic' and 'The Poseidon Adventure' that the conversation leading to the birth of our show happened: 'Titanic? Might as well have named the boat Death Ship 666 - with Captain Brain Damage at the helm'... And the rest is history!"...
A doomed crew and passengers board a half-built cruise ship and set sail to the Bermuda Triangle. As our desperate heroine (Grandma) falls in love with the ship's dashing, yet troubled Architect, elaborate plots conspire to destroy Death Ship and all that sail on her. In the fight for survival it's woman vs child, human vs bear and ship vs time.
You can watch 'Death Ship 666!' from the 26 November - 15 December at Jermyn Street Theatre. Quote READING666 to receive your discounted ticket for £14. The Box Office can be reached on 020 7287 2875.
More information on the Jermyn Street Theatre website >>>