THE Awards: Professor engineers teaching innovation
Release Date 26 November 2013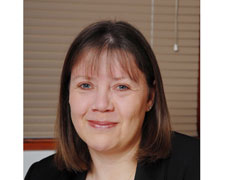 Professor Rachel McCrindle, from the University of Reading's School of Systems Engineering, is shortlisted in the 'Most innovative teacher of the year' category of the Times Higher Education Awards 2013, which are announced this Thursday.
The University of Reading has the joint highest number of nominations at the awards.
Rachel McCrindle is Professor of Computer and Human Interaction in the School of Systems Engineering at the University of Reading.
She has developed an innovative module for all first year students in the School, where students work in teams to plan, develop and create a board game to teach them about software engineering. Not only do they learn about the topic, they gain an insight into the industry and enhance their soft skills such as team work, time management and communication.
Professor McCrindle said: "I always actively seek to teach in ways that inspire students to be independent learners and to give them real-world skills, in addition to the rigorous academic techniques they need for the modern workplace, thereby enhancing their employability.
"I try and make my teaching very interactive so my students engage with the principles and techniques I'm teaching them.
"It's not just about them sitting there listening to me, it's about getting them to engage with the learning process and to go through the process so they've applied it, they enjoy doing it and they remember it afterwards as well."
ENDS
For more information, contact Pete Castle at the University of Reading press office on 0118 378 7391 or p.castle@reading.ac.uk.
Notes to editors:
Watch Professor McCrindle talk about her teaching in this video >>>
The winners of the Times Higher Education Awards 2013 will be announced on 28 November 2013 at an event in London. More details at www.the-awards.co.uk
The University of Reading is ranked among the top 1% of universities in the world (THE World University Rankings 2013-14).