24-hour study centre opens for University of Reading students
Release Date 02 October 2013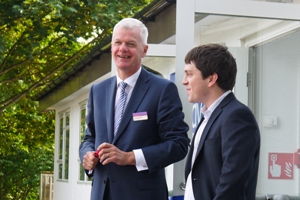 University of Reading students will be able to study around the clock in a new 24-hour study centre.
The Study, part of a £300,000 refurbishment of facilities at Reading University Students' Union (RUSU), was opened last week by Vice-Chancellor Sir David Bell, in time for the new 2013/14 academic year.
The Study has space for up to 100 students to hit the books, an outside decking area for a further 50, plus group study areas, wi-fi internet access, and a kitchen to allow students to take a break and make a well-earned cup of tea.
The investment, which will allow students to study at all hours on most days, follows a decision by the University to extend the opening hours of its main library during exam periods.
Sir David said: "Students expectations are rising year after year. They have every right to expect academic services that enable them to fit study into their busy lives, day or night.
"The University and RUSU have been working in partnership to improve academic facilities, in particular at exam time. This new facility shows how, by working together, we are responding positively to the needs of our students to the benefit of all."
Mark Kelleher, President of RUSU, said: "RUSU is proud to announce that we now have a state-of-the-art study facility for students' use. I would like to thank the University of Reading for their assistance in the renovation of The Study. It is a symbol of the importance of student representation within the University's committee structure and the great benefits student representation can bring to Reading students."
The University's £300,000 investment also included the refurbishment of the Stephen Lawrence Media Centre, which is the new home to student-run media on campus, including long-running student newspaper Spark*, the Junction 11 radio station, and TV channel RU:ON.
ENDS
For more information please contact Pete Castle at the University of Reading press office on 0118 378 7391 or p.castle@reading.ac.uk.
Notes to editors:
The University of Reading is a top 1% global university (THE World University Rankings 2012).
The University funded the renovation of the Study, which was then furnished by RUSU. Currently The Study has extended opening hours and will be open 24 hours on most days - but will not be open on Union nights or Sundays at this stage.