University of Reading retains place in world's top 200
Release Date 03 October 2013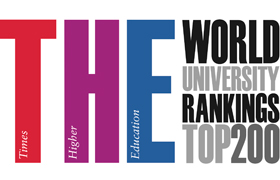 Reading has retained its place in the world's top 200 universities, according to the 2013/14 Times Higher Education World University Rankings published today.
Reading is placed:
194th out of more than 20,000 universities globally - well inside the world's top 1%
29th of the 49 UK institutions ranked
in the world's top 100 universities for humanities (87th) and life sciences (85th).
But overall the university has fallen back from 176th - equal last year, showing the immense competition within the global Higher Education sector.
Sir David Bell, Vice-Chancellor of the University said: "Retaining a world top 1% ranking in such a competitive, globalised higher education market is a tribute to our staff's talent and expertise.
"We are one of the strongest research-led universities in the UK. We do top-class work on issues of critical global importance like climate change, food security and public health. We attract students from across the world and we are internationally ambitious.
"No university can rest on its laurels. No one is guaranteed to retain a top 200 place when the US, Far East and others are investing in research so heavily. Research-intensive universities just below the leading institutions are in a very tight, crowded and turbulent international market. Gaining ground becomes tougher every year.
"We make no apologies for raising our game and laying the groundwork for the future. We're already generating £650 million a year for the regional economy. We have invested £400 million in teaching and research facilities in the last decade. We have recruited over 50 new academics in the last year to deepen our academic excellence. We are building a world-class new campus in Malaysia and a £25 million plus investment in a new Science and Innovation Park in Reading."
ENDS
Notes to editors:
THE World University Rankings are the most comprehensive and respected global league tables - using 13 separate performance indicators to examine universities' strengths - teaching, research, knowledge transfer and international outlook.