Student media has new home on campus in Stephen Lawrence centre
Release Date 11 October 2013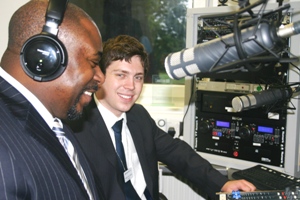 The filmmakers, journalists and broadcasters of the future are getting a new home as the University of Reading officially opened its new centre for student media today.
The Stephen Lawrence Media Centre was formally opened at the Reading University Students' Union (RUSU) today after it was refurbished as part of a £300,000 refit of students' union facilities.
The new suite of studios, an edit suite and newsroom will provide a new home for Reading's student media outlets - the long-running student newspaper Spark*, the Junction11 radio station, and TV channel RU:ON.
Helping to unveil the plaque outside the suite was Symon Sentain, Chair of the Trustees of the Stephen Lawrence Charitable Trust, representing the family of Stephen Lawrence, after whom the rooms were first named in 1993.
Speaking to students, he said: "Universities and places of learning are where our future generations are coming from, our leaders of tomorrow. Your new media centre will be a really key part of that."
Mark Kelleher, RUSU President, said: "The last two decades since Stephen's tragic death have thankfully seen some significant changes, where people are held to account, especially by the media. Students media is a great way to start a career in journalism, and we a re proud to dedicate our media centre to the memory of Stephen Lawrence."
Sir David Bell, Vice-Chancellor of the University of Reading, said: "We are very fortunate to have such a thriving student media scene at Reading.
"As a former student journalist myself, I understand the effort and rewards that come with volunteering in this way. While the technology has moved on, the importance of having a vibrant and independent media is as strong as ever.
"I am always impressed by the commitment of Spark's contributors, and have experienced first-hand the professionalism of those involved in Junction 11 and RU:ON. Student media is just one example of how Reading students excel, not just in their studies, but in extracurricular activities as well."
ENDS
For more information please contact Pete Castle at the University of Reading press office on 0118 378 7391 or p.castle@reading.ac.uk.
Notes to editors:
In 1993 Reading University Students' Union (RUSU) opened and named its new meeting rooms 'The Lawrence Rooms' after the student Stephen Lawrence, who was murdered in a racist attack in London in April 1993. The rooms were dedicated to Stephen and the Lawrence family for their commitment to justice and the fight against institutionalised racism. Twenty years on, these same rooms have now been refurbished and transformed to accommodate RUSU's three student-led media channels.