Comment: Monday's storm: what will happen - and how do we know?
Release Date 25 October 2013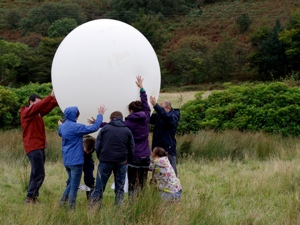 Strong gusts of wind, heavy rain falling on sodden ground, trees still in leaf - this Monday's storm approaching the UK could cause widespread disruption, weather experts from the University of Reading believe - echoing some of the elements of the Great Storm of 1987.
A group of University of Reading scientists and Meteorology masters degree students are on the Dorset coast this weekend, conducting experiments in the face of the oncoming storm, including launching weather balloons, taking measurements and observing conditions.
But following the Met Office's famous mistakes 26 years ago, will weather forecasters get it right this time? What's going to happen - and how do we know?
Dr Roger Brugge, from the University of Reading's Department of Meteorology, explains:
"The stormy conditions forecast to hit the south of England on Monday morning are likely to cause rush hour travel disruption and localised flooding, while falling trees and debris could pose a risk to people and buildings," he said.
"Over the weekend, and especially on Sunday, the public should monitor the forecasts as they develop during the day - and any travel announcements that may result. Monday morning's journey to work could be a difficult one for some.
"Big autumn storms like this are not unusual for the UK, although they are more frequent across northern areas. The stormy conditions will result from a deep low that is currently forecast to track from SW Wales towards NE England during Monday morning.
"The storm will originate in warm, moist air just to the west of the Azores, and this warmth coupled with an overlying strong jet stream mean that the system will be vigorous with closely packed isobars on its southern flank, hence the likelihood of strong winds across southern parts of Britain. Here in the Reading area we're expecting gusts of 60-70 mph or so as the jet stream steers the storm across the UK. There will also be rain, but with a south-westerly wind the temperature will remain reasonably mild on Monday.
"While this storm is still three days away, the certainty with which it is being forecast is partly down to the massive advances made by meteorologists in weather forecasting over the past two decades.
"We're lucky in the UK to have arguably the two of the best forecasting centres in the world - those of the Met Office and the Reading-based European Centre for Medium-Range Weather Forecasts (ECMWF) - who both combine good forecast models with a wealth of observations to enable reliable forecasts to be made.
"This storm is looking unlikely to miss us or fizzle out. The beginnings of it will be evident in the western Atlantic by Saturday morning. Only the exact path, and the 'depth' or minimum pressure, of the system are in doubt."