Reading has highest number of nominations for THE Awards 2013
Release Date 06 September 2013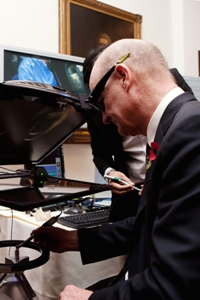 A virtual dentist's chair has helped the University of Reading to win four nominations for the Times Higher Education Awards 2013 - the joint highest of any university in the UK.
Reading is nominated in the categories of business school of the year, outstanding contribution to innovation and technology, international collaboration of the year, and most innovative teacher of the year.
No university has more nominations than Reading for the awards, which are presented annually by the Times Higher Education (THE) magazine to recognise excellence across UK universities. In total, 62 institutions have received nominations, with only three other universities - Newcastle, East Anglia and York St John - also shortlisted in as many as four categories.
Sir David Bell, University of Reading Vice-Chancellor, said: "This is wonderful news, and I extend my warmest congratulations to all the staff at Reading whose outstanding achievements have been recognised with a THE Awards 2013 nomination.
"I'm enormously proud that Reading is leading the way with the joint highest number of nominations. I am also particularly pleased the categories reflect our university-wide commitment to teaching excellence, world-class research that changes lives, international collaboration, and creating strong links with business and industry."
The University of Reading's nominees are:
Henley Business School (Business school of the year)
Professor William Harwin (Outstanding contribution to innovation and technology)
Professor Rachel McCrindle (Most innovative teacher of the year)
Dr Rosalind Cornforth (International collaboration of the year)
Both Professors Harwin and McCrindle work within the School of Systems Engineering. Professor Harwin's haptic virtual reality system for training dentists, the hapTEL Virtual Dental Lab, is used by students at King's College London Dental Institute. Professor McCrindle has already been made a National Teaching Fellow by the Higher Education Academy for her innovative and engaging teaching methods.
Dr Cornforth, who works in the Department of Meteorology, is nominated for her work on the Africa Climate Exchange (AfClix) project, of which she is co-founder and director. The scheme helps climate scientists and meteorologists across the world to work with individuals and organisations in Africa, where accurate weather information and advice is crucial to the lives of millions of people.
ENDS
More more information please contact Pete Castle at the University of Reading press office on 0118 378 7391 or p.castle@reading.ac.uk.
Notes to editors:
The winners of the Times Higher Education Awards 2013 will be announced on 28 November 2013 at an event in London. More details at www.the-awards.co.uk
The University of Reading is ranked in the top 1% of universities in the world (THE World University Rankings).