Comment: Let's not ditch 5-a-day fruit and veg advice just yet
Release Date 01 April 2014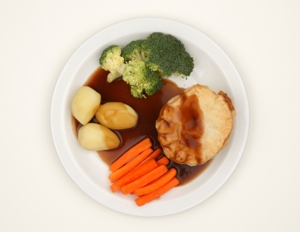 Following the publication of research suggesting that eating up to seven portions of fruit and vegetables daily gives the best protection against cancer and other diseases, agricultural economists, behavioural psychologists and food scientists at the University of Reading provide comment.
Professor Richard Tiffin, Director of the Centre for Food Security at the University of Reading, said:
"Other countries already recommend more than five a day, but I don't think we should change the message every time new evidence emerges. The underlying key message behind 'five a day' is that we all need to eat more fruit and vegetables. The evidence suggests that this is one of the more successful campaigns at improving behaviour around diet and health. Changing such a successful message in this way runs the risk of undermining its strength. If we keep changing such messages, people could be forgiven for thinking that scientists can't make up their minds, or, worse for public health implications, that they don't know what they're talking about."
Dr Rachel McCloy, a psychologist at the University of Reading, said:
"Rushing to change the guidelines on 'five-a-day' too quickly might have an adverse effect on trust in scientific advice. By increasing the recommendation to seven-a-day, or even 10-a-day, public health officials might succeed at pushing up average consumption, as motivated individuals seek to follow the most up-to-date health advice. But it could also demotivate those who already struggle to get to five-a-day, by making the target even further out of reach. These are the people who are likely to benefit most from an improvement in diet, and so cannot be forgotten in efforts to improve public health.
"Advice on healthy lifestyles might work on paper, but human behaviour is more complex than that. You can't just pull a lever and expect to change people's behaviour overnight. If we really want to encourage people to eat more fruit and vegetables, we need to find ways to make the healthy choices easier to make."
Dr Gunter Kuhnle, a food scientist at the University of Reading, said:
"This is an excellent study. It is one of the first pieces of research to clearly show that eating fruit and vegetables lowers the risk of cancer among the British public. Previously the evidence for this was far more ambiguous - this is a game-changing advance in food science. It also reinforces the well-understood benefits of eating fruit and veg on lowering risks of cardiovascular disease. The fact that the research is based on a representative sample of the UK population makes this even more relevant to British consumers.
"The question about tinned or frozen fruit is due to problems with the method. The researchers were not able to distinguish between the two in their survey, making it impossible to make a distinction in later analysis. It's possible that eating tinned fruits are an indicator of high sugar intake, but it might also be a marker of poverty or lower socio-economic class - as there is no data, it's simply not possible to speculate.
"Currently, most British people don't even eat five portions of fruit and vegetables a day - the average is two portions of fruit and 1.5 portions of vegetables - so any efforts that will encourage people to eat more are welcome. But we should be very careful in how these messages are communicated."