Comment: new MH370 search area in calmer waters but still very remote - Reading oceanographer
Release Date 08 April 2014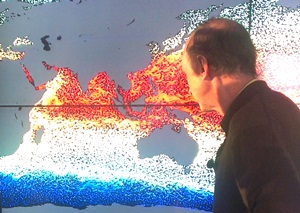 With teams searching for traces of the missing Flight MH370 now looking further north than in previous weeks, Dr Till Kuhlbrodt, an oceanographer at the University of Reading's Department of Meteorology, comments on the ocean conditions that search teams could face.
Dr Kuhlbrodt, University of Reading, said: "The latest search area is significantly further north than the earlier areas, in a warmer, calmer and less stormy part of the Indian Ocean. This is still a very remote spot, hundreds of miles from land and far from any major commercial shipping lanes. With hardly any regular sea traffic, very little detail is known about the nature of the sea bed in this part of the ocean.
"Being further north is likely to be a big help to the search teams. This region is around 20 degrees south, and around 1,800km west of Australia, in the subtropical part of the Southern Indian Ocean. In this part of the ocean, there are no strong surface currents. Surface waves at this time of the year are quite small - on average between 1 and 2 metres high. This is much less than in the earlier search regions a couple of thousand kilometres further south. There, the mean height of the surface waves is measured to be up to 12 metres. The current search area is like a millpond in comparison.
"This is still a deep part of the ocean, with depths of around 5km, but the ocean bottom is fairly flat. To the south-east of the search region are two patches of underwater mountains - perhaps similar in size and scale to the Italian Apennine mountains. There, the ocean depth is reduced to about 3km.
"Wind could be an issue to the search teams. For most of the year there are strong southeasterly winds, which only weaken during the Southern hemisphere winter during the middle of the year. In terms of rainfall, this region is fairly dry, with annual rainfall totals of about a third of what we expect to see in the UK.
"At the surface, the ocean is currently rather warm in this region, at around 27 degrees Celsius, but temperatures get colder quickly as you descend below the surface. At the bottom the ocean temperature is an icy 1.5 degrees Celsius."