Students become farm business consultants – for 45th year
Release Date 09 April 2014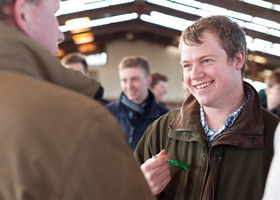 Agriculture students from the University of Reading have had the chance to put their business skills to the test by acting as consultants to a real farm business.
This year, 33 students took part in the well-established scheme, run between the University's School of Agriculture, Policy and Development and Barclays, with 2014 representing the project's 45th anniversary.
The scheme aims to give students real-world experience in the world of farming business, while also providing help to a genuine agricultural enterprise with some ideas about where it might want to apply crucial capital investment.
Dr Alison Bailey, from the University's School of Agriculture, Policy and Development, said: "At Reading we have understood for a very long time that students need both firm academic knowledge as well as real-world practical experience. We believe this scheme, while modernised for today's world, is as helpful to students and businesses today as it was when it began in 1969."
This year, the dairy enterprise on the Farley Estate near Reading was the host. The students developed plans for redevelopment of the dairy and opportunities for diversification into areas as varied as offices, stabling, hosting polo events, kennels, storage, residential lettings, a day spa, renewable energy, and a centre for dairy excellence.
Students visited the farm and spoke to its managers, acting as real consultants, before preparing business plans with ideas for future development of the farm.
The detailed plans were reviewed by academic staff at Reading, the host farmer and Barclays managers, before Barclays staff interviewed the students to decide whether or not the proposed developments would get the go-ahead to receive funding.
Karl McConville, Barclays Relationship Director, Corporate Banking, South said: "Barclays is committed to supporting young people to make the transition from education into the work place. We welcome the opportunity to support students into employment, by using our local expertise and business knowledge to provide opportunities to learn with real life business scenarios and understand the requirements of a financial provider."
The successful exercise shows the longstanding commitment of the University of Reading to give students the skills they need to succeed after graduating, the mutual benefits of collaboration between business and the University, and the longevity of Barclays' support for both businesses and young people entering the world of work.
NOTES AND ADDITIONAL COMMENTS
The University of Reading is one of the world's leading centres for the study of agriculture and food. For more details visit http://www.reading.ac.uk/apd
Additional comments:
Rosie Hopkins, 22, BSc Agricultural Business Management student, said: "It has pulled together knowledge we have gained over the last three years and applied it to a real life case study which ultimately adds an element of realism and enjoyment to the project. The entire process has been extremely beneficial. The feedback from the interview session held with Barclays Bank was very valuable highlighting areas for development which banks would consider when making the decision to issue a loan. Completing a project such as this will stand us in good for our future careers in the industry."
Rich Lewis, 21, BSc Agriculture student, said: "I really enjoyed the whole Barclays project; a lot of hard work went in by everyone and it was very satisfying to see how everything came together. I found creating the financial budgets very interesting - quite challenging but satisfying when we got it right, and also useful to my home farm situation."
Mark Robins, Chief Executive, Farley Estate, said: "We were very pleased to be invited to participate with Barclays and the University of Reading in this student project. We are proud of what we have achieved at Farley but we are always keen to identify the next phase in our development. It is very rewarding to watch the next generation of farm and land managers develop their ideas based on what we have achieved here and gives us plenty of food for thought for our future plans."
Neil Walker has taken part in the Barclay exercise both as a student, in 1978, and as a host business, at Manor Farm, Garford, Abingdon, most recently in 2013. He said: "During both the second and final years we made a number of farm visits, many of which involved a management appraisal. The culmination of these visits was the Barclays exercise. I left Reading returning to the family farm where I have since utilised my experiences at Reading to invest in and expand my own business which now includes arable, goats cheese, renewable energy and other diversified enterprises."