Discover Reading and the Great War
Release Date 15 April 2014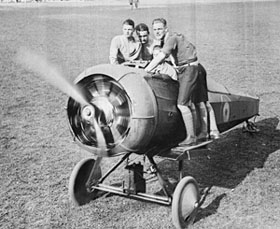 On Sunday 27 April The Friends of the University is proud to be hosting a special event which will reveal the impact of WW1 on Reading and its university.
As well as discovering the contribution and sacrifice made by the town during the conflict visitors to Reading and the Great War, which will take place on the London Road Campus, can enjoy a variety of family-friendly WW1 themed activities.
Highlights of the afternoon include the unveiling of a commemorative plaque to Wilfred Owen. The great poet was a Reading student before heading off to fight the War. Experts will be giving tours to reveal some of the little known facts about Reading and the Great War. Find out about the Royal Flying Corps being billeted at Wantage Hall and how the Physics building was used to train munitions workers and make weapons.
University of Reading history students will be on hand to document and catalogue objects associated with Reading and the Great War brought to the event by the public. There will be performances of war poetry and plays, as well as activities for all the families including poppy and WW1 aeroplane making! Local schools will be diplaying various WW1 themed projects and highlighting their institution's role in the conflict.
The Royal Berkshire Hospital and the Royal Berkshire Regiment will be giving displays and they'll be a rare chance to view 100 year-old WW1 themed biscuit tins from local, world renowned biscuit manufacturers Huntley & Palmer.
A commemorative book with images of those who died in the Great War who were connected to the University, then Reading University College, will be on special display. With the help of local volunteers, University researchers explored their service history, personal details and connections with the University. The book has now been digitised.
A Service of Remembrance will also take place in memory of the University's fallen students and staff. The War Memorial bell will toll 144 times before the service, once for each soldier killed, a forgotten tradition being specially revived for this event. The Student Union President, the Royal British Legion and Friends of the University will join the University of Reading Vice-Chancellor Sir David Bell in laying a commemorative wreath.
Andrew Palmer, Chairman of The Friends of the University, said: "This promises to be a wonderful occasion, informative and enjoyable. We hope visitors will gain a fascinating insight into the way Reading contributed to, and was affected by, this epoch-making conflict that began a hundred years ago."
Reading and the Great War takes place on Sunday 27 April between 1.00pm - 5.00pm at the University of Reading's London Road campus. Entry is £3 (includes refreshments) students and under 18s free.
To book tickets in advance visit: www.reading.ac.uk/events For more information about the event, please contact: thefriends@reading.ac.uk 0118 378 8006