Reading helps plot a path to the sustainable city of the future
Release Date 22 April 2014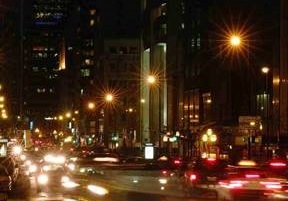 Cities are home to 3.6bn people today - half of the world's population - and by 2050, urban populations are expected to hit 6.3bn.
Yet current urban areas are responsible for creating 80% of global greenhouse gases, and many cities are expected to be particularly vulnerable to the effects of climate change.
Finding ways to make cities more sustainable is one of the big questions of our time, and a key research goal at the University of Reading. Now the University's School of Construction Management and Engineering is planning two events in May 2014 to find answers, both on a global and local scale.
The first, on 6 May, will seek to raise broad issues of developing sustainable cities around the world - while the second, on 13 May, aims to scope out a new future vision for the urban area of Reading itself.
Smart and sustainable cities
On 6 May, Sir David Bell, Vice-Chancellor of the University of Reading and Michael Sippitt, Chairman of the Commonwealth Environmental Investment Platform and Clarkslegal LLP, will be hosting a symposium and reception in Reading.
The event will explore how we can create smart and sustainable urban visions, how can we provide transferable technology and knowledge solutions from the UK to the Commonwealth and how universities, business and the public sector should work together.
We are delighted to announce the keynote presentation will be delivered by Sir David King, Chair of the Future Cities Catapult Board and the Foreign Secretary's Special Representative for Climate Change. Other speakers include:
City visions and urban innovation - Professor Tim Dixon, School of Construction Management and Engineering, University of Reading
How could a city be smart and sustainable? Tim Curtis, Ricardo AEA

Urban microclimates - how lessons from the developed world can be applied in the developing world - Professor Janet Barlow, University of Reading

Working with cities - Euan Burns, Carillion plc
This event is free to attend but places are limited. If you are interested in attending, please email contact@theceip.com or call 0118 958 5321. Further information >>>.
Reading Future 2050 vision
On 13 May, the University is hosting a major workshop to scope out a Reading Future 2050 vision. Reading Future 2050 is an initiative which has been adopted by Reading UK CIC, the economic development company for Reading and led by its partners, Barton Willmore, and the University of Reading, along with the local development industry.
Sponsored by the Walker Institute at the University of Reading and Reading UK, the workshop will examine two key elements within a Reading Future 2050 vision:
Physical Infrastructure, Growth and Development: This focuses on the physical changes we could drive within the town to support this vision, both in the short, medium and long term. Group work will look at specific key sites, connectivity, place and leisure and retail to assess and discuss what interventions would provide the maximum gain and support for the broader vision.
Environment, Economy and Lifestyle: We have a view of what low carbon living could be in 2050, but how do we get there? Could the future be both smart and sustainable, and if so, how? How will Reading look and how will people live? What are the changes in technologies, lifestyle and governance systems that are needed to support smart and sustainable living?
Professor Tim Dixon (School of Construction Management and Engineering) and Stephen Tucker (Barton Willmore) will be facilitating the Reading Future 2050 workshop.
For further information on this workshop please email Tim Dixon or Jenni Montgomery.