University to walk to the moon with Reading's Beat the Street
Release Date 29 April 2014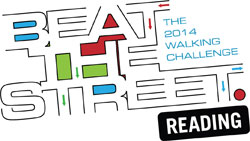 The University is joining in Reading town's five week programme in which 60,000 people will aim to walk (and cycle) 238,000 miles - the distance to the moon... and we need your help!
Beat the Street encourages everyone in the borough to walk as much as possible from Thursday 1 May to Wednesday 4 June.
You can take part by collecting a Beat the Street card from reception desks at Palmer, Whiteknights House or RUSU, which you then need to register online (from Wednesday 30 April): http://reading.beatthestreet.me.
Each walk is recorded using specially designed walking sensors, known as 'Beat Boxes', which will be fitted to lampposts and other street furniture across the town and University campus.
Points are awarded and the mileage is clocked up each time you tap your personal Beat the Street card on to two or more Beat Boxes. Each box is approximately 0.5 miles apart.
Students and staff will have the opportunity to join either the University Staff or University Student (RUSU) teams. Which team will clock up the most? Follow progress on the website http://reading.beatthestreet.me.
Campus Beat Boxes will be located outside the Palmer building by Dol.cHe Vita, at Friends Bridge, and on the path between Stenton Hall and the lake.
Beat Boxes can also be found at Christchurch Green outside Gregg's, on Pepper Lane by the bus stop, by the BP garage on the Wokingham Road near Earley Gate, outside the Co-Op on Erleigh Road and lots more locations. Visit the website for full information about the location of all the Beat Boxes.
Help Reading reach for the moon! Get out from behind the desk and beat the campus street.