University launches study to support Reading's local food economy
Release Date 08 August 2014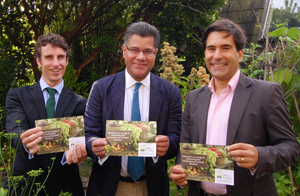 The University of Reading is asking for the local community's help with a new project that aims to support the town's community food businesses.
'Cities on the Grow' consists of two public surveys. One will seek the opinions of members of community food businesses, who possess detailed knowledge of its operations. The other will seek opinions of consumers of these businesses.
The researchers hope to understand how these businesses, which often initially rely upon grant funding, can move to a position of financial self-sufficiency as well as having a positive impact on our climate. The researchers also will be seeking to understand how policy makers can better link food, health, diet and climate, to create policies that have positive outcomes for all. The hope is that this knowledge will have a lasting legacy for Reading, economically, environmentally and socially.
Dr Richard Nunes of the School of Real Estate and Planning, University of Reading, and co-lead of the study said:
"Many community food businesses exist on a grant funded business model which isn't necessarily sustainable. Our study seeks to support them in their transition toward more commercially viable business practices, whilst securing their social and climate benefits.
"This important project will not be possible without engaging multiple audiences, including academic, policy and business communities, and of course consumers. We hope the local community engage with the project and its aims to make Reading's local food economy more sustainable."
The EU-funded study is co-led by the University of Reading and Wageningen University, in collaboration with industry, public and third sector organisations. The results of the survey will be followed by a series of focus groups and workshops in both countries, with a final report in the Spring of 2015.
MP for Reading West Alok Sharma attended the launch and pledged his support for the study stating:
"Reading's community food businesses play an important role in both our communities and the local economy and I welcome the launch of this study to support them in securing their long-term commercial viability. I would urge all employees, volunteers, those who own, or are consumers of Reading's community food businesses to get involved to maximise the positive impact of this study for Reading."
To learn more about Cities on the Grow, and how to get involved and participate in the surveys, go to www.citiesonthegrow.org