Ebola comment: experimental treatment offers hope for infected
Release Date 12 August 2014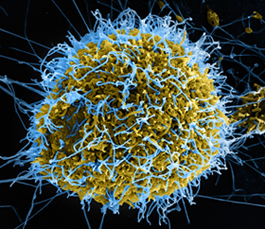 The UN's World Health Organisation has sanctioned the use of an experimental treatment for those who have the deadly Ebola virus.
Virologist Dr Ben Neuman, from the University of Reading's School of Biological Sciences, welcomed the development.
Dr Neuman said:
"The decision to allow some new anti-Ebola medications to be tested is welcome news. I think the humanitarian case for treatment in a disease as deadly as Ebola is very clear cut. If I had Ebola, I would be looking for any treatment available, even if it was only at an experimental stage. I think this decision will bring some hope to Ebola patients and their families.
"However each treatment does carry a risk of side effects, and unless they are carried out in a carefully controlled way, it may be difficult to tell whether the drugs have worked. There are other antibody treatments, similar to ZMapp, which are already in use for cancer patients and they seem to be well tolerated. So while it is likely that ZMapp will do no harm, we do not know whether it will be effective given to patients, particularly in the late stages of Ebola."