Virus expert: Ebola threat to UK remains 'extremely low'
Release Date 26 August 2014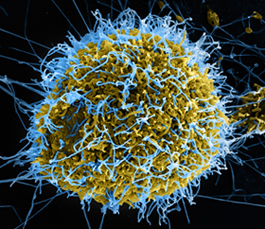 As the Ebola outbreak continues in West Africa, and with a British nurse now receiving treatment in a London hospital after contracting the virus, University of Reading virologist Professor Ian Jones provides comment.
Read more background on Ebola >>>
from Professor Jones and his Reading colleague Dr Ben Neuman.
Professor Ian Jones, a virologist at the University of Reading, said:
"The Ebola outbreak centred on West Africa continues but has increasingly dedicated support for its cessation, underpinned by the WHO statement of a Public Health Emergency of International Concern (PHEIC). Recent developments include the repatriation of an infected UK National to a specialist isolation facility at the Royal Free Hospital in North London, and the availability of a new drug from the health ministry of Japan. A separate outbreak, unrelated to that in West Africa, has also been declared in the Democratic Republic of Congo.
"Throughout the ongoing situation it is important to remember a number of key facts:
The virus concerned has not changed in any way and if its spread can be restricted the outbreak can be brought under control.
The virus can only be contracted by direct contact with an already infected individual, it does not spread easily.
The infection is extremely serious but prospects for the patient improve dramatically if diagnosis and treatment are rapid.
Experimental drugs may help and their availability is to be welcomed but it is not yet clear how effective they will be on a wider scale. Infection control by quarantine and contact tracing remain the established method for Ebola control.
In general the level of threat to the average citizen is extremely low."