Not quite a golden 50th anniversary for the August Bank Holiday
Release Date 26 August 2014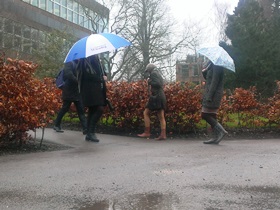 This weekend marked the fiftieth late August Bank Holiday in England and Wales, although it was perhaps not quite the golden anniversary holidaymakers might have hoped for.
Visit the University of Reading's Department of Meteorology website >>>
According to records at the University of Reading's weather station it was the coldest late August Bank Holiday weekend in those 50 years with the exception of the weekends of 1979 and 1980, which were both just slightly colder. In fact the University recorded a ground frost on Sunday morning - for the third time this month.
Monday itself was a dismal day in Reading, according to Roger Brugge of the University's Department of Meteorology. He said that 19.2 mm of rain fell during the day, making it the wettest August Bank Holiday Monday since 1986 when the remnants of former-Hurricane Charlie brought a steady deluge of 27.5 mm.
Dr Brugge said: "Overall, it was the wettest August Bank Holiday weekend for 22 years - in 1992, 22.6 mm of rain fell compared to the total of 20.5 mm this year over the three days.
"It was also a dull weekend. There was no sunshine on Monday - only the Charlie Monday of 1986 has managed this feat before - helping to make it the dullest August Bank Holiday weekend since 2003."
In fact, August 2014 is turning out to be quite a cool month compared to the average. The University's observations reveal that, with six days to go, the average temperature for the month is about 1.5 degC below average. Dr Brugge added: "This would make it the first month since last November to be colder than average in Reading, while the month's rainfall total as of Tuesday morning was about one and half times the normal fall for August at 77 mm."