Indian and UK scientists team up to tackle monsoon
Release Date 27 August 2014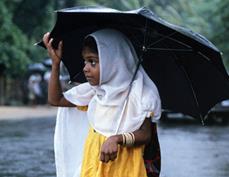 Reading scientists are at the forefront of a new international collaboration to improve monsoon forecasts - and find out how climate change could influence the monsoon rains in the future.
The UK's Secretary of State for Energy and Climate Change Edward Davey has today announced new UK-India research projects that will see Indian and UK scientists come together to improve forecasts of the South Asian monsoon including the potential impacts of climate change. Secretary of State Edward Davey is visiting India with the UK Deputy Prime Minister Nick Clegg.
The Drivers of Variability in the South Asian Monsoon research programme will receive combined funding for approximately £8 million from the UK's Natural Environment Research Council (NERC) and the Indian Ministry of Earth Sciences (MoES) and the UK Met Office. This builds on a flourishing research partnership between the UK and India, which has already invested over £150 million in research between the two nations.
The summer monsoon provides 80 per cent of annual rainfall to around a billion people. Accurate predictions of intense downpours and breaks in the monsoon are essential to let society plan for floods and droughts. Last year, the monsoon advanced particularly rapidly over northern India, causing devastating damage. Meanwhile, prolonged breaks in 2009 led to a severe shortage of rainfall and poor harvests. Forecasting the precise timing and location of the rains is vital to the region's economy, which is dominated by farming, and for managing its increasingly pressured water resources.
The programme will examine the physical processes of the monsoon through a large-scale observational campaign. It will use the UK's BAe-146 atmospheric research aircraft and ocean gliders, and Indian research ships, to gather fresh data on the region in more detail than ever before. This programme will help us in better understanding of the physical processes of the South Asian monsoon and their improved representation in weather and climate models.
The research will begin in 2015 and is expected to last for between three and five years. Each project will be led by a UK and an Indian researcher. The UK team is headed by Professor Hugh Coe (University of Manchester), Dr Andy Turner (University of Reading) and Dr Adrian Matthews (University of East Anglia). They will be joined by Indian colleagues Dr S. Suresh Babu (Indian Space Research Organisation), Prof G S Bhat (Indian Institute of Science) and P. N. Vinayachandran (Indian Institute of Science).
Speaking at St. Xavier's College, Mumbai as part of a three-day visit to India, Secretary of State Edward Davey said:
"Our countries share a strong and growing relationship at the forefront of science and technology, one that aims to improve lives of people. The monsoon is a hugely important part of peoples' livelihoods here in India. It is also a very important part of the global climate system. This major new UK - India research initiative on the monsoon is a great example of how UK and India can work together to tackle climate change and other global challenges."
Dr Shailesh Nayak, Secretary MoES, said:
"I am happy to note that the Indian and UK scientists are collaborating on observational campaigns including the NERC aircraft and modelling efforts to study the complex physical processes of the south Asian monsoon. I am sure this collaboration will facilitate improving the representation of monsoon physical processes in weather and climate models."
Ned Garnett, NERC's interim head of research, said:
"We are delighted to be teaming up again with our colleagues at the Ministry of Earth Sciences in India to tackle this important problem."
"Being able to deliver better predictions of the monsoon will be of huge benefit to the people of South Asia and the regional economy, which is of course an important part of the global economy. This programme will bring together complementary skills of UK and Indian scientists in joint projects to address these global issues."