Deputy Mayor of Reading receives Alumnus of the Year award from University
Release Date 15 December 2014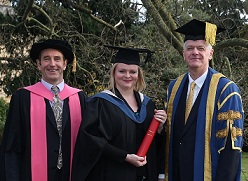 Deputy Mayor of Reading, Councillor Sarah Hacker, has been recognised for her outstanding contribution to the community by the University of Reading.
The Labour councillor for Battle ward was presented with the 'Alumnus of the Year 2015' award as part of the University's winter graduation ceremonies, which took place in the magnificent Great Hall on the University's London Road campus last week. The award was established in 2008 to recognise the outstanding achievements of individuals who have graduated from the University.
Mrs Hacker has been a pillar of the Reading community since she left the University of Reading in 2000, where she graduated with a BSc (Hons) in Rural Environmental Science. A councillor for Battle ward in Reading since 2010, Mrs Hacker was elected as Deputy Mayor of the town in June 2014. Since being appointed, she has successfully campaigned for more school places and a new primary school in West Reading and has helped to secure £1.65 million of funding to benefit residents. Mrs Hacker now has her sights set on becoming Mayor of Reading in 2015, enabling her to serve Reading as its first citizen and raise money for her selected charities.
Mrs Hacker, who is also Chair of the Town's Arts Forum, Labour Group, and Housing, Neighbourhoods and Leisure Committees, was born in Derby but moved to Reading aged three. She cites the numerous field trips and wide curriculum covered by her degree and as being key factors in driving her passion for the subject.
Mrs Hacker said: "I am hugely honoured to be given this award. I thoroughly enjoyed my time at the University of Reading and my course certainly helped shape my interest in the environment we live in.
"I recently visited the Whiteknights campus and was given a tour of the Agriculture Department where I studied. It was interesting to talk to the students who are now doing my course as it is still a subject I am very interested in. The campus is quite different from when I was there. There are some beautiful new buildings, coffee shops and the library has undergone an impressive refurbishment. I am very proud the University has chosen me as its 'Alumnus of the Year 2015' and I will fulfil the role to the best of my ability."
Professor Julian Park, Head of School of Agriculture Policy and Development at the University of Reading, presented Mrs Hacker with the award.
Professor Park said: "I am thrilled to present this award to Councillor Sarah Hacker. It is 14 years since she graduated from the University of Reading studying Rural Environmental Science, a programme that I was directing at the time. Since then she has personally achieved a great deal while becoming a champion for the community.
"It is clear when speaking to Sarah that she is passionate about the work she does and it is fantastic to see one of our own graduates making such a positive impact in the Reading locality. We look forward to watching Sarah's career continue to flourish and I hope she will remain in touch with us as it does."