No let up from the storm factory as Britain battered again
Release Date 05 February 2014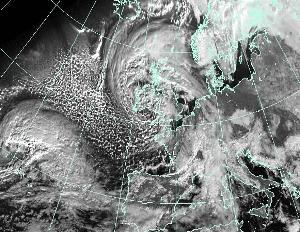 As more storms sweep across Britain, Dr Rob Thompson, from the University of Reading's Department of Meteorology, says the continuous battering of southern Britain is 'unprecedented'.
Dr Thompson said: "This pattern of weather, with a constant conveyor belt of Atlantic storms hitting southern Britain, shows no sign of abating yet. It's caused by conditions in the North Atlantic where warm, moist air from the tropics is coming up unusually close to very cold polar air. This clash of air masses is effectively a storm factory, causing twisting, rotating weather systems to form before being fired eastwards at Britain by a strong jet stream.
"This violent storm is just the latest to lash the UK. More rain - around 18mm - was recorded at the University of Reading's atmospheric observatory last night. In areas with already saturated ground and rivers full to the brim, this could cause more problems with flooding.
"It's not uncommon for weather patterns in Britain to get 'stuck' as they have been in recent weeks. Lots of weather research is currently focusing on why winter storms tend to cluster together. This current cluster seems to be going on particularly long though, and is unprecedented for the south of England. With more bad weather predicted for Friday and Saturday the storm factory is running at full pelt and doesn't look like going out of business just yet."