University goes bananas for fairer trade
Release Date 25 February 2014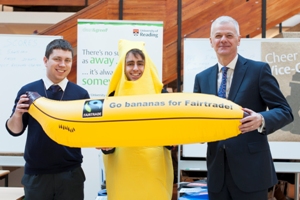 As part of Fairtrade Fortnight the University of Reading is delighted to announce that it is now stocking only Fairtrade bananas.
It's no slip-up. From now only Fairtrade bananas will be available in the Students' Union supermarket, Campus Central, and in the University's many cafés and canteens across its three campuses.
Andrew Tooley, Chair of the University's Fairtrade Steering Group, said: "I'm really proud that the University has achieved this. We're the first University in the country to have done so. I hope this will send a signal to consumers and the government that change can and must happen."
Last year, University outlets sold more than 35,000 bananas, making the fruit the ninth-highest selling food on campus - one place above chips.
Other Fairtrade products already sold on the University's campuses include orange and apple juices, tea and coffee, chocolate, cakes and wine. By committing to extending the range of Fairtrade products on campus, the University is part of a wider move in the UK to make a difference to global trade.
Mark Kelleher, President of Reading University Students' Union (RUSU), said: "I am proud to say that Reading University Students' Union is an organisation committed to ethically sourcing the goods we sell in our commercial outlets. I would like to praise all of the hard work put in by the students in the Fairtrade Society and their campaigning work has not gone unnoticed."
Over the past 10 years, the typical price of a banana in the UK has nearly halved, whilst the cost of production has doubled. The Fairtrade Foundation believes that this is trapping many farmers in poverty.
This year marks the 10th anniversary of Reading's status as a Fairtrade Town. It is the fifth year of the University's Fairtrade status.
More information from the Fairtrade Foundation:
Since Fairtrade bananas first appeared on UK shelves 13 years ago, today 1.2 billion Fairtrade bananas (one in three) are sold as Fairtrade in the UK each year - approximately £200 million of the UK market.
The UK supermarket sector has almost halved the shelf price of loose bananas in the last 10 years even though the cost of producing bananas has doubled. We typically now pay 11p for a loose banana compared to 20p for a loose UK-grown apple.