New sports pavilion for Whiteknights campus
Release Date 08 January 2014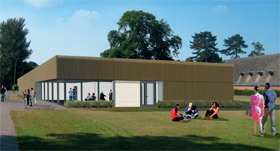 Plans for a new sports pavilion on the Whiteknights campus will be unveiled at a public exhibition on Friday. Staff, students and members of the local community are invited to view the plans and provide their feedback.
The proposal is to replace the existing Athletics Pavilion (next to the small car park off Elmhurst Road) with a new pavilion building situated next to the SportsPark.
The new building will provide extensive changing facilities, showers and a club room, for use by University and community sports teams.
Solar panels on the roof will generate electricity for use in the building, and by other buildings on the Whiteknights campus when demand is low. This will save over £1000 per year in energy costs.
Exhibition details
The exhibition is being held in the SportsPark foyer from Friday 10 January 2014 until Wednesday 15 January 2014 inclusive.
The exhibition will be available daily during SportsPark opening hours. Please feel free to drop in and view the proposals - your comments are welcome.
University staff will be available to discuss the plans and answer queries on the following days:
Saturday 11 January 2014 - 10.00am to 12.00pm
Monday 13 January 2014 - 10.00am to 12.00pm
Tuesday 14 January 2014 - 6.00pm to 8.00pm
Download the SportsPark Pavilion leaflet >>>
Click here to find out more about the proposals >>>