University of Reading appoints two new Pro-Vice-Chancellors
Release Date 16 January 2014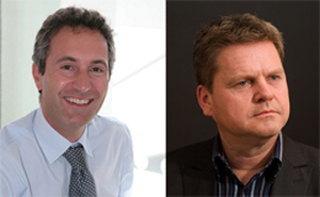 The University of Reading is delighted to announce it has appointed two new Pro-Vice-Chancellors to help lead its ambitious plans over the next decade.
Vincenzo (Enzo) Raimo has been appointed the new Pro-Vice-Chancellor for Global Engagement.
A Reading graduate, Enzo Raimo has been Director of the International Office at the University of Nottingham for the past eight years. His new role will involve leading Reading's global strategy including developing new markets; building academic and business partnerships overseas; and raising its profile internationally.
Professor Robert Van de Noort has been appointed the new Pro-Vice-Chancellor for Academic Planning and Resource.
An archaeologist by profession, Robert Van de Noort has been the Dean of the College of Social Sciences and International Studies at the University of Exeter since 2011. His role will oversee all academic resource planning at Reading - including staff deployment; the overall course programme; and shaping the capital investment programme in teaching and research facilities.
Both new Pro-Vice-Chancellors will sit on the University Executive Board, chaired by the Vice-Chancellor, which is responsible for Reading's day-to-day leadership and management.
Both appointments come into effect on 1 August 2014.
Sir David Bell, Vice-Chancellor University of Reading, said:
"We set out to recruit the best so I am delighted to bring two outstanding, experienced and high-calibre leaders to the University of Reading.
"We have big ambitions for the future as we develop a strategy to take us forward over the next decade leading into our centenary year as a university in 2026. These include strengthening further our teaching and research; developing new facilities in the UK and opening our campus in Malaysia next year; and raising our domestic and international profile and recruitment.
"Both Enzo and Robert have proven-track records at high-class universities. They have the vision and ideas to contribute effectively to the University of Reading's ambitions for the future. Enzo and Robert will do a great job and I am looking forward hugely to working with them."
Enzo Raimo said:
"I'm genuinely very excited to be joining Reading not only because I'm a graduate of the University but because it feels as if there is real ambition around its international agenda. I know that there has been significant development of the international strategy and some great progress made already. I'm looking forward to working with my new colleagues to further grow Reading's standing and activities overseas."
Professor Van de Noort said:
"I am delighted and honoured to have been appointed. I look immensely forward to the opportunity to work with my new colleagues to deliver the world-class, forward looking, confident and ambitious university ahead of its centenary."
In other changes announced last summer, Professor Christine Williams OBE, will be stepping down from her role as Pro-Vice-Chancellor for Research and Innovation on 31 July 2014. Professor Tony Downes, the current Deputy Vice-Chancellor and Provost and Chief Executive Officer of University of Reading Malaysia, will move full-time into the latter role from 1 August 2014.
From 1 August 2014, Professor Steve Mithen, Reading's current Pro Vice-Chancellor International and External Engagement, will take over responsibility for Research and Innovation. He will also assume the role of Deputy Vice-Chancellor until 31 July 2016.
Background
1. Enzo Raimo graduated from the University of Reading in 1990, with a BA in Italian and International Relations. He has spent much of his career working including in senior administration roles in Higher Education. These include the Head of International Student Recruitment at the University of Nottingham between 2000 and 2007 and since then, as Director of the International Office. He has helped shape Nottingham's highly successful internationalisation strategy - leading on international scholarships, student mobility, support and recruitment.
2. Robert Van de Noort studied History at the University of Utrecht and Archaeology at the University of Amsterdam. He worked at the British School at Rome (1988-89), and the Rotterdam Archaeology Unit (1989-1991) before moving to Britain where he became the manager of the Humber Wetlands Project (1992-2000) and the director of the Centre for Wetland Archaeology (1996-2000), both based at the University of Hull.
In 2000, Robert was appointed Senior Lecturer in Archaeology at the University of Exeter. In 2003, he became Head of Department and then Head of the School of Geography, Archaeology and Earth Resources from 2004-2008. In 2006, he was appointed to a Personal Chair. Between 2008 and 2011, Robert was the University Dean of the Faculty of Graduate Research. Since 2011, he has been Dean of the College of Social Sciences and International Studies.