University finalises sale of Bulmershe campus
Release Date 21 January 2014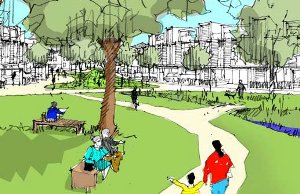 The University of Reading has completed the sale of the redundant Bulmershe Court campus to developer CALA Homes.
The site has been used for education since the Second World War, with the Berkshire College of Education and then the Bulmershe College of Higher Education operating on the campus until it merged with the University of Reading in 1989. The buildings on site date from the 1970s up to the 2000s.
But the University has decided to concentrate its activity on three campuses - Greenlands at Henley, London Road and Whiteknights in Reading. It has moved all teaching, research and accommodation at Bulmershe on to its other campuses.
CALA Homes have already had outline proposals approved for the redevelopment of the site, removing most of the existing buildings.
The plans include converting six of the existing residence halls, built in the 1990s, into a mixture of one, two and three bedroom apartments. The Louden block, which was damaged by fire on Christmas Eve, after the sale was completed was to be demolished as part of the approved plans. CALA Homes has since increased security at the site.
CALA Home is currently undertaking public consultation on plans for the site. More details can be found on its website: www.cala.co.uk/bulmershecampus.
The existing playing fields at Bulmershe will be retained for University and community use.
David Savage, Chief Operating Officer, said: "The sale allows us to target investment on our three UK campuses to help meet our ambitious plans over the next decade and beyond.
"The completion marks the end of a successful moving of all our accommodation, research and teaching facilities from Bulmershe to our other campuses. We're pleased that the existing playing fields will be retained for University sports and as a community resource."