The Students' Union are putting the 'UNI into CommUNIty'
Release Date 29 January 2014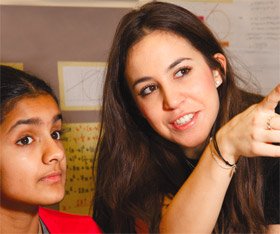 Student volunteering is one of the key areas undertaken by the Students' Union in its efforts to encourage students to take part in activities beyond the campus, and the statistics are impressive.
In the autumn term 400 volunteers completed more than 2000 hours of volunteering including an impressive 60 volunteers who decorated Thameside Primary School for Christmas to the surprise and delight of pupils, and 39 volunteers who served a Christmas meal to 40 guests who were homeless or at risk of being so.
When asking the volunteers what they have enjoyed most, team work has featured in every answer. Mina Him, the student behind the Christmas meal, said that although planning the meal was, 'her biggest challenge', she enjoyed the team work involved in creating such as successful event. The three course traditional meal was accompanied by lots of carol singing, cracker- pulling and story-telling and was a fantastic festive event that saw students form relationships with members of the Reading community.
Victoria Milner, who coordinates the Tea Party Committee and organised two tea parties for the elderly residents at Lakeside Care Home, Whiteknights Road, said that her leadership and communication skills had improved greatly.
Clare Yachshyn, a Masters student from Canada, volunteers as the new student co-ordinator of Learning Lab, at the Play Café in Palmer Park. This project helps children with their homework every Friday afternoon. Clare said that it had provided her with the 'opportunity to connect with other students as well as people in the wider Reading community'. The Learning Lab project sees over 12 children a week and helps them with spelling, reading, science and mathematics.
Many student volunteers would like to pursue careers in connection with the volunteering they undertake. Two student co-ordinators of KEEN (at Reading Mencap) a project that runs drama workshops for children with complex needs, study speech and language therapy and coordinating this project compliments their chosen area of study.
This year's Raising and Giving (RAG) committee have already raised £6000 for their chosen charities. Their Chair, Sophie Dalton, echoed the thoughts of many student volunteers: 'Seeing the benefits to people's lives really grabs you and makes you appreciate the smaller things in life you once took for granted.'
For more about the RUSU campaign to put the 'UNI into CommUNIty' see the monthly e-newsletter: http://www.rusu.co.uk/campaigns/uniintocommunity/