Wolfson grant helps Uni Museum display hidden treasures
Release Date 31 January 2014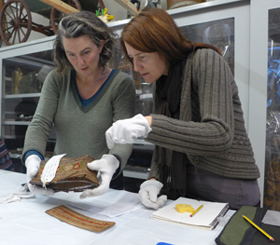 Visitors to the Museum of English Rural Life will soon be able to discover some of its more hidden treasures thanks to an award of £175,000.
The Museum (MERL), which is owned and managed by the University of Reading, is one of 40 museums across the country to be awarded a joint grant from the Department for Culture, Media and Sport (DCMS) and the Wolfson Foundation.
The grant will allow visitors to view some of the smaller, more fragile, collections and objects, currently only accessible to visitors on guided tours, in striking new display cases. These include a range of traditional crafts including smocking and material from our more recent past such as Women's Land Army material. Clothing from a 1990s Newbury Bypass eco-warrior will also be displayed for the first time.
The new display opportunities support MERL's current Heritage Lottery funded redevelopment project, Our Country Lives. The project aims to transform the way that visitors understand our rural past through MERL's collections. This means shifting the focus from large agricultural machinery to the parts of the collections which relate to how people lived - such as clothing, crafts, food and traditions.
MERL Curator, Isabel Hughes, said: "This grant will transform the public's access to collections never previously displayed. This will help us create a more relevant museum which our modern, urban audiences can relate to more easily.."
Kate Arnold-Forster, Director of MERL, added: "This is a very exciting time for MERL, the University of Reading and our visitors and we are very grateful for the support of the DCMS/Wolfson Foundation."
The 40 grants, awarded by the DCMS/Wolfson Museums and Galleries Improvement Fund, are designed to fund renovation and improvement projects in museums and galleries, to increase access and enhance the display of exhibits. 40 museums across the length and breadth of England will benefit from grants worth over £4.6 million.
Culture Minister Ed Vaizey said: "The range of projects being funded is testament to the great variety of wonderful collections and attractions at our museums and galleries across the country. These grants will help improve visitor experiences, benefiting local communities and helping to encourage growth, whilst also inspiring audiences with new knowledge, and I'm delighted that with the ongoing generosity of the Wolfson Foundation we have been able to help fund so many projects."
Paul Ramsbottom, Chief Executive of the Wolfson Foundation added: "We are pleased to be working with government to fund outstanding projects at museums and galleries across England. The DCMS/Wolfson Fund is an excellent example of how a funding charity and government department can work productively together. The projects supported this round are impressive, and will help inspire visitors to the country's wonderful museums and galleries."